Synopsis
Between Heaven and Earth was originally inspired by my experiences exploring the Fjörds, a large, mountainous region in Central Western Norway, and the Patterson Housing Projects in the Bronx, New York. While in New York, I learned about a community of inhabitants that live within the crevices of the Fjörds mountain peaks. Since these people live very high in the mountains, it was impossible for me to communicate directly with them. However, the natives who lived at the base were able to relate wonderful stories of extraordinary living conditions, which further triggered my imagination concerning the existence that they have with their surroundings. In the presence of that landscape, a desire was born to share their experiences. I became fascinated with the way those people live, how they respond to an environment that often threatens avalanches and how younger generations cope with, or revolt against, the hardships of their parents' chosen life. If all the young people left, the place would eventually become "empty."
Although my work is based on a specific geographic location and its inhabitants, the concepts of attraction, loss and the feelings generated by a particular environment are very universal. As I worked on this project, I became unable to ignore the parallels I saw with the living environments around me in New York. Specifically I focused on the Patterson Housing Projects of the Bronx. I found important social and economic themes rising from the common images of the Fjords and of the high rises. The uncomfortable environmental conditions endured by living at these elevations, and the separation of a group of people from the surrounding community. From this isolation and difficulty has arisen strong community, which is always threatened by the movement of the youth. In addition to the commonalities between these two subcultures, the differences are striking. One life is entirely of the land, the other entirely of civilization, and the hardships of each life differ along this line.
The soundtrack was recorded by singer Susana Baca specifically for this installation. Through this video, I explore the parallel stories of these two communities, and try to express my feelings of wonder at lifestyles that I will never be able to fully understand.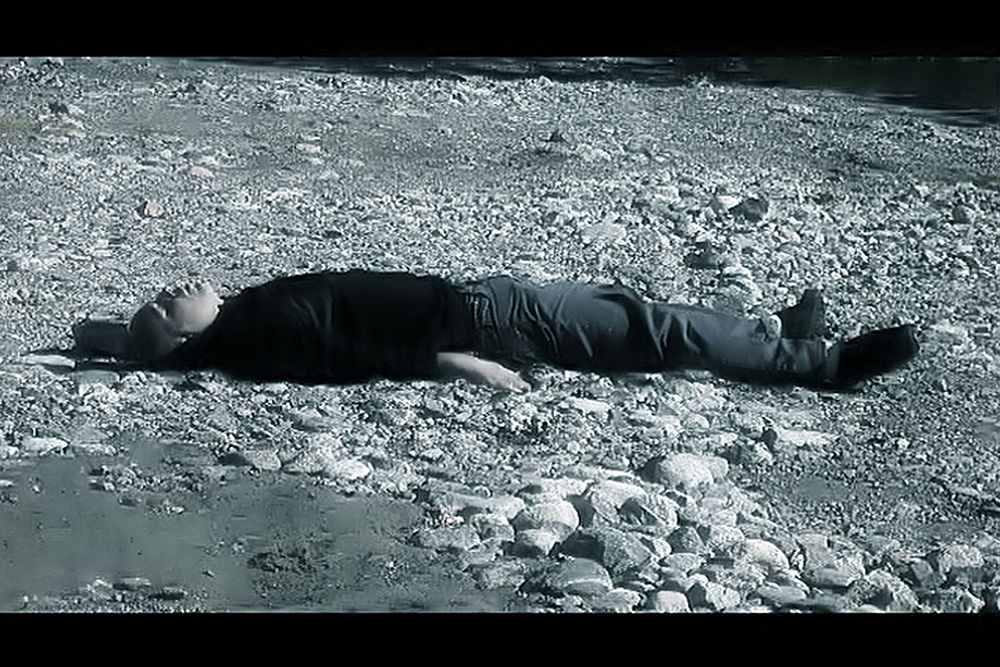 Español
ENTRE EL CIELO Y LA TIERRA
"Entre el cielo y la tierra" es una instalación inspirada originalmente en mis experiencias explorando los Fiordos, amplia región montañosa de la parte centro occidental de Noruega. Atraída por esos misterios naturales, supe de la existencia de una comunidad de personas que vive en las grietas de las cumbres elevadas. Como están en lo más alto de las montañas era imposible comunicarme directamente con ellas.
Sin embargo, los lugareños que viven en la parte baja fueron capaces de relatar historias maravillosas sobre sus extraordinarias condiciones de vida, lo que motivó aún más mi imaginación acerca del estilo de vida que estas personas habían establecido en su medio ambiente. Frente a este panorama nació mi deseo de compartir sus experiencias. Quedé fascinada con la forma en que estas personas viven, cómo responden a un medio que a menudo los amenaza con avalanchas y cómo las generaciones jóvenes, o se adecuan o se rebelan frente a esta forma de vida tan dura, elegida por sus padres. Si todos los jóvenes parten, el lugar se quedaría finalmente "vacío".
Aunque mi trabajo se basa en ubicaciones geográficas específicas y sus habitantes, los conceptos de atracción y de pérdida así como los sentimientos generados por un medio ambiente particular son universales. Mientras trabajaba en este proyecto, no pude ignorar la similitud que percibí con la forma de vida que me rodeaba en Nueva York. De manera particular, ]é sobre los proyectos públicos de vivienda de la ciudad y descubrí importantes temas sociales y económicos que surgen de imágenes comunes de los Fiordos y de los rascacielos.
Las incómodas condiciones ambientales que tienen que soportar viviendo en estas alturas, y la separación de un grupo de personas de la comunidad que lo rodea hacen que, de este aislamiento y dificultad surjan comunidades fuertes que siempre están amenazadas por el movimiento de la juventud. Además de las similitudes entre estas dos subculturas, las diferencias son sorprendentes: una forma de vida está totalmente vinculada a la tierra y la otra a la civilización, y las privaciones de cada una de ellas difieren en esta línea.
En "Entre el cielo y la tierra", los espectadores ingresarán a un ambiente que, física y psicológicamente, imita los lugares anteriormente descritos. La configuración del área llevará a las personas a experimentar lo que las rodea, desde muchos puntos de vista, como si estuvieran a la vez "en" y "sobre" la tierra. Esta "virtualidad" espacial aumentará con la proyección de dos videos.
Una banda sonora, grabada especialmente por la cantante Susana Baca para esta instalación, evoca mucho más estos temas. A través de este trabajo, exploro historias paralelas de estas dos comunidades y trato de expresar mis sentimientos de admiración por estos estilos de vida que, yo, nunca seré capaz de comprender plenamente.