Arches of Harlem
The Arches of Harlem commissioned 
SIMUL
, a signature art installation beneath under the Riverside Drive Viaduct at 125th Street. It will play as a double metaphor that connecting Harlem to the wider New York, as well as bringing local residents together under the bridge.
SIMUL
intertwines with the bridge, and at the center is the meeting point of the tubes which is the nucleus of the piece. The center of intermingling of tubes, is to represent how, although the people are all different, the city is one interconnected community. Everyone who lives in the city, even short-time visitors, is a New Yorker. Each neighborhood of The New York City has its own charm and identity. The segments are all connected to create the city we know and love. This piece was inspired by that interconnectivity. The piece title'
SIMUL
', which is Latin for togetherness. I aim to create a sense of togetherness in the wider NYC area, while simultaneously bringing together the locals in the neighborhood."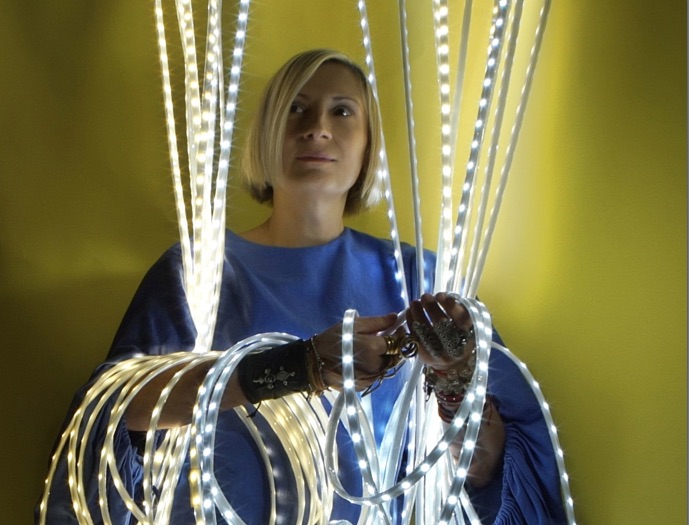 About Grimanesa Amoros
As a Peruvian-American light artist, Grimanesa Amorós finds her inspiration in the synthesis of two different cultures. From the history of her home country she continues to make use of this heritage when creating the artworks. Therefore with her Peruvian legacy, Grimanesa's style of conveying emotions with site specific attention makes her installations world-famous.
Prospect Park
in Brooklyn,
Paolo Soleri Bridge
in Arizona,
CAFA Art Museum
in China,
Times Square
, Hong Kong, Madrid and Tel Aviv are only a few of the many locations which feature fascinating light installations of Grimanesa Amorós. You can find her works in almost all parts of the world, including Latin America and Asia. In 2016,
Ludwig Museum
presented a traveling exhibition and monograph of the artist's work. Grimanesa often talks about critical theory, social history, and other cultural aspects at universities and institutions. Such as
Rhode Island School of Design (RISD)
,
Parsons
,
Tongji University
,
Rutgers University
, and
American University of Dubai
. In addition she was
TEDGlobal
speaker at 2014, where she dwelled on landscapes and the latest technology in art. Throughout Grimanesa's artistic career, her artworks appears on
Forbes Magazine
,
Huffington Post
,
Wall Street Journal
, and
New York Times
. Also she was in several publications such as
Surface Magazine
,
Harper's Bazaar
, and
New York Magazine
. For more information, please visit the webpage: 
Read More