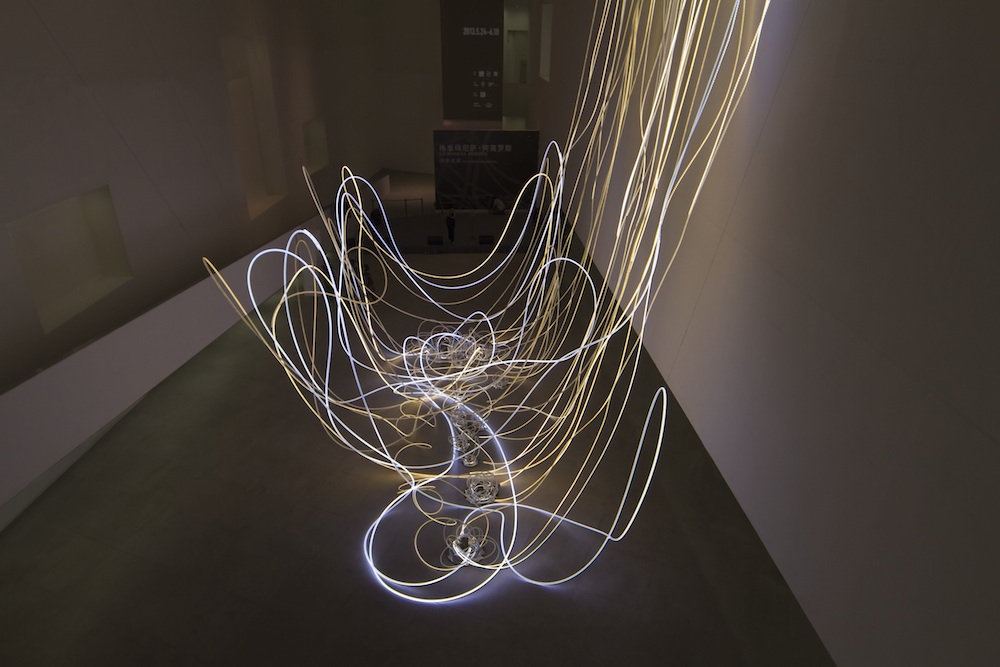 The Mirror Connection, 2013
GRIMANESA AMORÓS
The Mirror Connection

June 2nd, 2013 through June 22nd, 2013
Opening reception: June 2nd 2013 at 4PM
Museum of China Central Academy of Fine Arts, No.8 Hua Jia Nan Jie, Chao Yang District, Beijing China
BEIJING – The Museum of China Central Academy of Fine Arts (CAFA) and China Arts and Entertainment Group are proud to present The Mirror Connection, a light sculpture installation from a recent series of works by Peruvian artist Grimanesa Amorós. The installation, which will be on view from June 2-June 22, 2013, is co-organized by the Ministry of Culture of China and CAFA.
Created for the lobby of the CAFA Art Museum, The Mirror Connection is 30'x 20'x 33' and made from LEDs, diffusion material, reflective material, a custom lighting sequence and electrical hardware.
"When I entered the CAFA Art Museum, designed by Japanese architect Arata Isozkaki, I was overwhelmed by the design and the quality of light in the expansive lobby," said Amorós. "This experience made me think about museums as unique platforms for the expression of new ideas. The Mirror Connection installation is an opportunity for me to showcase my ideas and the different facets of my creative process including my interest in asymmetrical balance, movement and infinite lightness."
Grimanesa Amorós (born in Lima, Peru) is an interdisciplinary artist with diverse interests including social history, scientific research and critical theory.  She uses sculpture, video and lighting to create works that illuminate our notions about personal identity and community.  Amorós' work explores the duality between ancient spirituality and modern technology.
About CAFA and CAFA Art Museum
Established in 1950, CAFA is an advanced academy of Chinese fine art under direct charge of the Department of Education in China. Its museum of fine arts has a collection of over 13,000 works of art including historical and contemporary pieces from China and the west. In 2008, the museum opened a new building designed by Japanese architect Arata Isozaki. The new building has enabled CAFA to become a venue for the exhibition and discussion of Chinese and western art and to be an open and free academic space for the interaction between artists and people interested in art.
Organizers: Ministry of Culture of the People's Republic of China and Embassy of the Republic of Peru
Presenters: China Arts and Entertainment Group and CAFA Art Museum