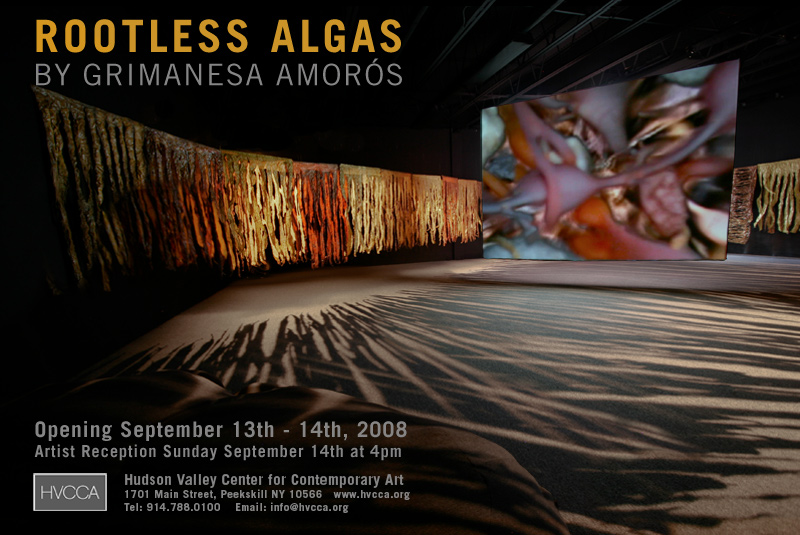 ALGAS SIN RAÍCES
BY GRIMANESA AMORÓS
LONG-TERM INSTALLATION
Opening September 13th – 14th, 2008, Artist Reception Sunday September 14th at 4pm
(Multimedia Installation) Video edited by: Grimanesa Amorós and Cooper Miller, Music by: Hilmar Örn Hilmarson, Lighting by: Grimanesa Amorós and Steve Dubay
Special Performance Sunday September 14th, 2008 at 4:30pm The Sea Mare – Tableaux Vivant Nouveau
Opening performance for Grimanesa Amorós' Rootless Algas presented by Pálina Jónsdóttir
Hudson Valley Center for Contemporary Art 1701 Main Street Peekskill, NY 10566 Tel: 914.788.0100 Email:

[email protected]

www.hvcca.org
DECLARACIÓN DEL ARTISTA
In this work I am exploring my experience on Flatey, Iceland. When we arrived, we greatly increased the population of the remote island. A key part of this trip was trying to overcome our feelings of isolation and foreignness by exploring the island's natural habitat. The rocks on the shores of Flatey were covered with thick and textured algae like I had never seen before. The colors and the immensity of these piles were overwhelming. They were aesthetically beautiful, yet I couldn't explore the shores nor go swimming without stepping in and around the vegetation. This limitation enhanced my internal sensation of being confined; yet, like the algae, I cannot be connected to any one place. The work intends to express certain feelings of isolation and attempts to convey characteristics of the actual experience, rather than explorations or descriptions. Icelandic composer Hilmar Örn Hilmarsson created the soundtrack for this project.
Grimanesa Amorós
is an interdisciplinary artist with diverse interests in the fields of social history, scientific research and critical theory, which have greatly influenced her work. She often makes use of sculpture, video, lighting and sound to create works that illuminate our notions of personal identity and community. Amorós utilizes her art as an agent for empowerment to involve viewers from all different backgrounds and communities. Born in Lima, she lives and works in New York City and Peru.
ABOUT THE PERFORMANCE
On May 27th of 2008, the celebrated beastologist, Professor Rosengarten, found a LIVING ancient sea beast on the banks of the Hudson River at Peekskill, New York. After thorough examination of the beast, experts believe it to be the very last example of a rare species known as Sea Mare–which was thought to have become extinct somewhere towards the end of the Pagan Era. The phenomenal living Sea Mare will have its first public appearance at the HVCCA on Sunday September 14th, 2008 at 4:30pm.
Pálina Jónsdóttir
began her performance career at the early age of 9 at the National Theater in Reykjavik and throughout the years her work has pushed the boundaries of artistic disciplines creating inventive progressive theatre. For more information about the artist please contact Hiroka Kitamura email:
[email protected]
For more information about the exhibition please contact Hudson Valley Center for Contemporary Art, Jessica Rogers. Email:
[email protected]
or Tel: 914.788.0100