Arte Realizzata
A Fascinating Conversation with Grimanesa Amoros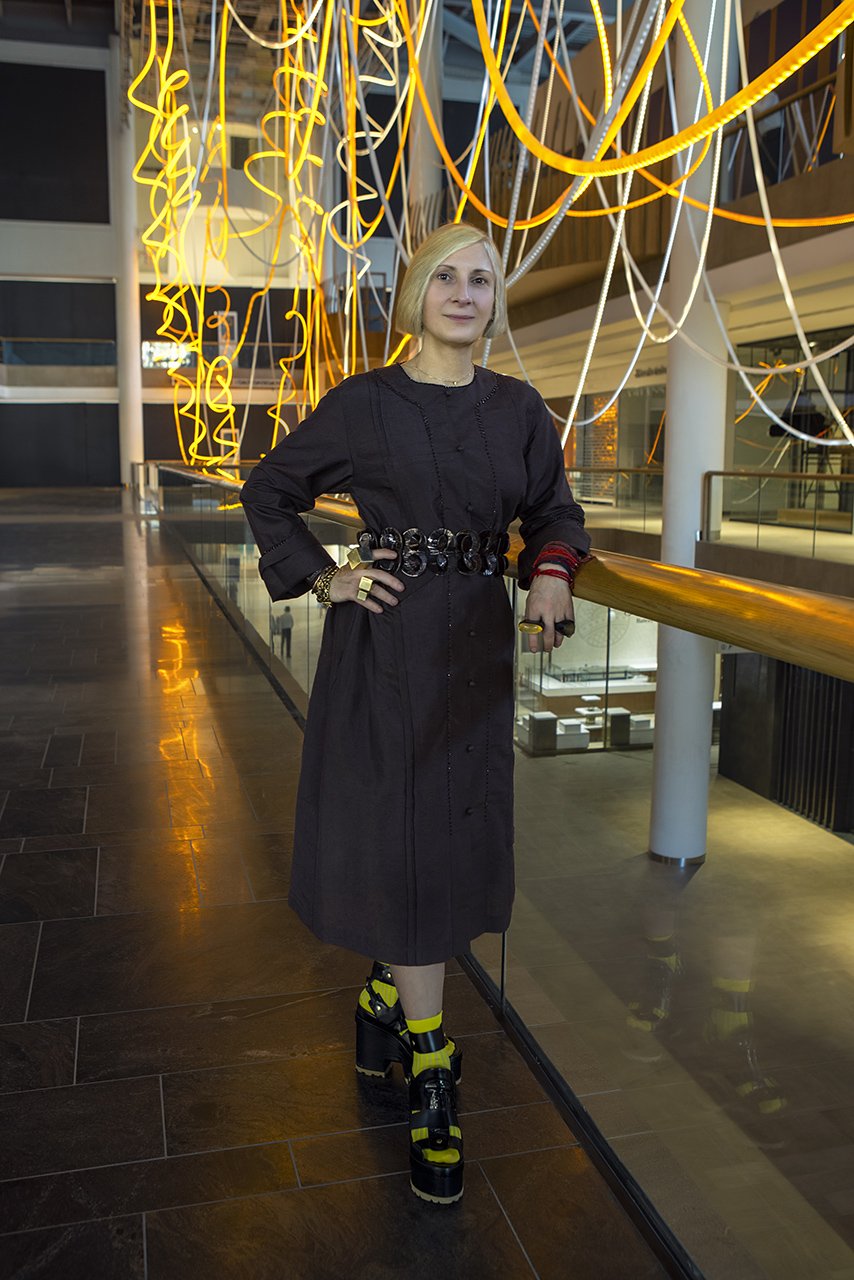 Grimanesa Amorós is a Peruvian-American interdisciplinary artist known for large-scale light sculpture installations. Her work finds inspiration from Peruvian cultural legacies and the communities surrounding her sculptures. She has exhibited internationally in Mexico, Tel Aviv, Beijing, New York Times Square, etc. Her most recent public works include ARRAY DORADO (Mumbai, India); HEDERA (Brooklyn, NY); MARIPOSA (Havana, Cuba); LOTO ROSA (New York, NY); AGUAS DE ORO (Scottsdale, AZ); ARGENTUM (New York, NY); and CASA UROS (Times Square, NY).
Lectures, and Awards
She has participated in many art festivals and fairs, such as El espectáculo de la armería in New York City. She has given many artist lectures, most recently at Pratt Institute (Brooklyn, NY), ArtSpace (Raleigh, NC), Sweet Briar College (Sweet Briar, VA), Corriente Alterna School of Arts (Lima, Peru), Colgate University (Hamilton, NY), y Spruill Center for the Arts (Atlanta GA). Grimanesa has been a guest speaker at TED Global 2014, un destinatario de la 'Becas de becas de artes visuales NEA 1993'. She has the distinction of being part of the 'Art In Embassies Program of the U.S.' y el Civita Institute NE Chapter Fellowship Grant.
Past Works
Her work has been exhibited in numerous museums, including the Ludwig Museum, CAFA Museum, Museo de Arte de la Universidad Nacional de Seúl, Museo Nacional de Bellas Artes de Cuba, y Museo Katonah, among many others. She also frequently is a keynote speaker on programs and panels related to feminism and women empowerment. Some recent examples include: Feminism Today with Sophia Johnson and NEYAD Women are the Future, the Future of Turkey. Her latest exhibit, SCENTIA in Bilbao, Spain, for The Wellbeing Summit, is in late May and early June. Grimanesa is currently represented at Leila Heller Gallery.
UZOMAH: How does the choice of voltage you use impact your material choices and color selection?
GRIMANESA:  My projects are created from concept to realization. That is to say, the concept and visualization are completed first. The LEDs for the projects I make are entirely custom-made for the installation. Once the visuals are finalized, the LEDs and electrical hardware are ordered to match the voltage requirements of the space. This has no influence on color selection.
U: What got you into sculpture?
G:  I have always been interested in sculpture. This passion was sparked by a fascination with seafoam during my childhood on the shores of Peru. During certain times of the year, the ocean would become tumultuous, whipping the foam into stiff peaks coating the shoreline. The shapes of these bubbling foam and their mysterious movement created natural sculptures that inspired my later work.
I began my career as a painter, primarily due to space constraints in NYC. However, even my paintings were heavily textured; I explored creating three-dimensional paint sculptures within the context of the composition.
U: You have noted how your father being a civil engineer, highly influenced you throughout your projects. How has your father been a significant influence in your creating process? 
G:  My father, who sadly passed away in 2018, did not significantly impact my creative process. However, his ethics greatly influence how I approach building the final sculpture and conducting myself when collaborating with diverse global teams.
As an engineer, my father was very precise. This attention to detail is present in everything I create. He was also a man of his word; when he promised you something, you knew you could trust my father would do it. I believe that I inherited his professionalism and his precision, qualities that inspire the teams I lead onsite.
My mother had a major impact on how I create; I would stay up late watching her create sculptural centerpieces and other arts and crafts throughout my childhood. She was the one who discovered my artistic inclinations at the age of 11.
U: How do you incorporate many disciplines in your projects to produce complex objects that reveal more about human understanding and how to co-exist with one another? 
G: All of my work is created with space and its impact on people in mind. When considering my materials, I think about how they will occupy and live with the space. This is one of the reasons I am drawn to light, as it extends beyond the material containing it to create ephemeral spaces. Once the viewer is immersed within my piece, it becomes a connection point between the viewer, their surroundings, and the flow of visitors experiencing the work. Through this shared connection, they forge bonds and create community.