Hyperallergic Issey Miyake
[/vc_column_text]
The Artist Behind the Light Installation at Tribeca Issey Miyake
por Alexander Cavaluzzo   December 23, 2011
[/vc_column][/vc_row]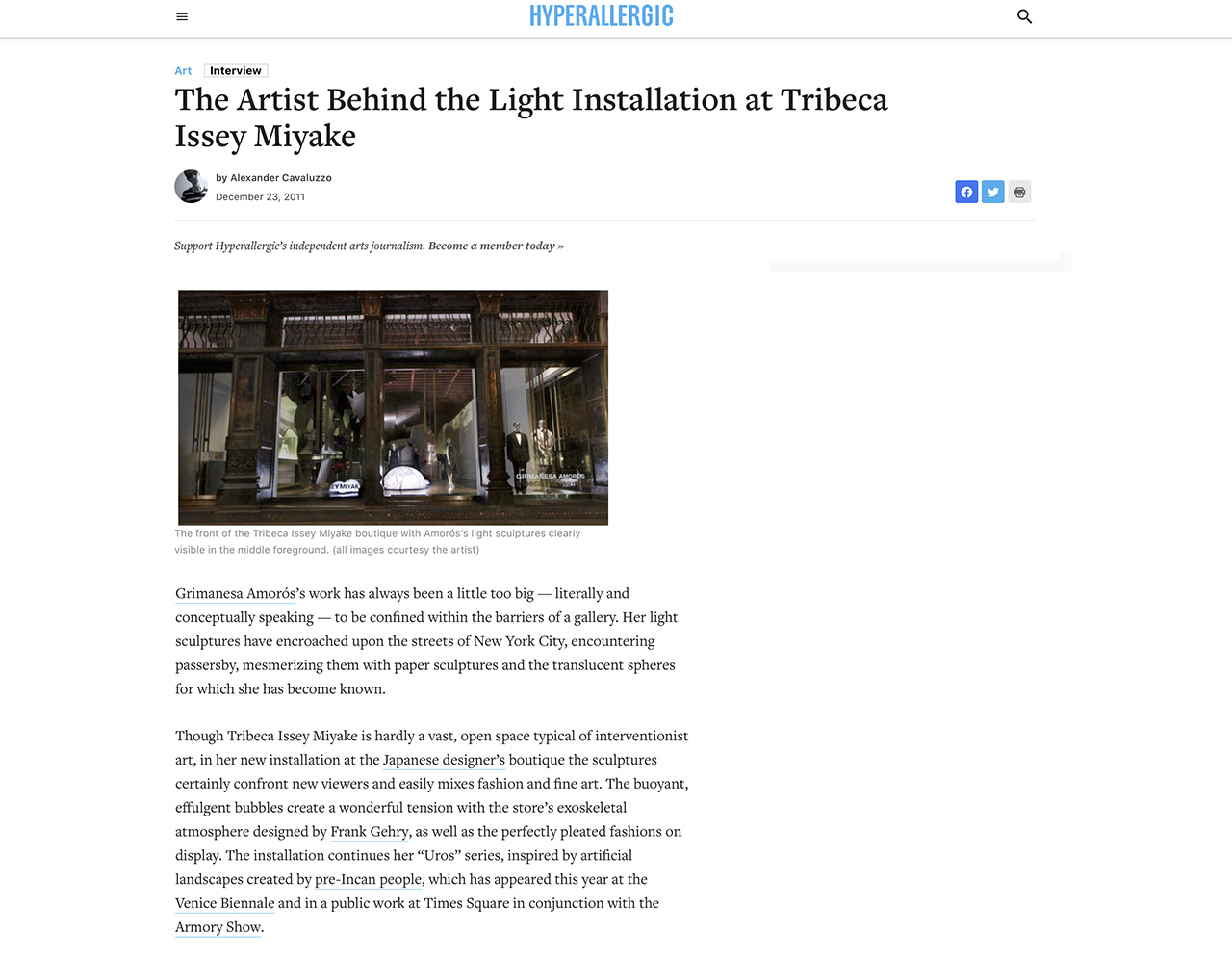 Grimanesa Amorós's work has always been a little too big — literally and conceptually speaking — to be confined within the barriers of a gallery. Her light sculptures have encroached upon the streets of New York City. Encountering passersby, mesmerizing them with paper sculptures and the translucent spheres for which she has become known.
Tribeca Issey Miyake
Though Tribeca Issey Miyake is hardly a vast, open space typical of interventionist art, in her new installation at the Japanese designer's boutique the sculptures certainly confront new viewers and easily mix fashion and fine art. The buoyant, effulgent bubbles create a wonderful tension with the store's exoskeletal atmosphere designed by Frank Gehry. As well as the perfectly pleated fashions on display. The installation continues her "Uros" series. Inspired by artificial landscapes created by pre-Incan people, which has appeared this year at the Venice Biennale and in a public work at Times Square in conjunction with the Armory Show.
Decked out in three-inch platform sandals and a lapidary skirt fashioned from prismatic organza folds, Amorós took some time between the wine and photoshoots at the opening this past Thursday to answer some questions about her work.
Alexander Cavaluzzo: Could you explain the process of creating the installation? 
Grimanesa Amorós: I do location visits and study the light at the site, e.g. how viewers move in the space and the people that will be interacting with the piece on a daily basis. I have always worked with subject matters that relate to my personal experience. Therefore I prefer to work with organic shapes and use materials that are practical and best express my ideas.
In my latest work, I have been using Phillips/Color Kinetics LEDs, Lexan (a diffusion material for my domes), silkscreen, aluminum, custom lighting sequencing and electrical hardware.
AC: You frequently weave social commentary into your pieces. What are the anthropological and sociological currents running through the work? 
GEORGIA: uros was inspired by the Uros Islands in Lake Titicaca, located in the southeast of Peru. They are floating islets made entirely out of totora reeds, a subspecies of the giant bulrush sedge. The pre-Incan Uros, who live on forty-two self-fashioned floating islands in Lake Titicaca, build everything out of this material. Everything ranges from houses to boats to watchtowers. I created Uros to reflect the natural elegance of sea foam and totora reeds. It maintains the traditional technique and shape of these islands.
AC: How did the collaboration with Tribeca Issey Miyake start? 
GEORGIA: Ohmi Morimoto, the VP of Tribeca Issey Miyake, approached me about exhibiting my work at the boutique. Tribeca Issey Miyake is very dear to me. I am in love with the clean and modern aesthetic used in Tribeca Issey Miyake and felt there was some common overlap between both our aesthetics.
I created Uros to reflect and enhance this modern practicality. It is a merger of the old with the new, and together they create something entirely different.
AC: How would you describe art's relationship to fashion?
GEORGIA: I'd like to think that fashion is inspired by the arts.
AC: Will the uros series continue?
GEORGIA: Undoubtedly I will continue my exploration of the Uros through my light sculptures.
*   *   *
uros by Grimanesa Amorós is on view now at Tribeca Issey Miyake (119 Hudson Street, Tribeca, Manhattan) through January 14, 2012.