VICE 
Wonderful artwork and light sculptures from the 2022 Noor Riyadh celebration
More than 100 artists participate in the second edition, 34% of whom are Saudi artists
Under the slogan "We Dream of New Horizons", the second edition of the " Nour Riyadh Celebration 2022″ was launched with the participation of more than 100 leading contemporary artists, from more than 40 countries around the world, 34 percent of whom are Saudi artists.
The "Nour Riyadh Festival 2022" is one of the "Riyadh Art" programs, with the aim of transforming the city of Riyadh into an open art gallery that blends tradition and contemporary. The second annual edition of the festival dedicated to lights shows opened on the third of November, and the performances will continue until the fourth of February 2023. 
The events include the work "I See You Clearly in the Dark" by the artist Muhannad Shono, through which he presents an immersive and large-scale innovation that extends over an area of ​​​​several rooms and floors in one of the buildings that were built in 1980 in the Al-Malaz district in Riyadh. Each exhibition includes a dedicated artwork with white threads and lights. To present luminous figures, where the threads, whose shapes change, are connected to each other from the ground floor to the ceiling of the building to allow viewers to follow them and discover the features of a journey full of loss, sincerity and receipt.

"Keep It Alive" by El Seed This experience allows visitors to walk through a series of rooms and corridors made of hanging curtains of fabric printed with the poems written in the Arabic calligraphy of the artist, while playing recordings of Arabic poetic words.
In the artwork entitled "Sculpting the Future," the artist Obaid Al-Safi raises questions about the relationship between the desert and the civilization that emerged from it. By centering his artwork in the desert, Al-Safi urges us to change our perception of the desert as a space of emptiness, to become a place for new beginnings. entire human.
Here are some pictures of the artwork and optical sensors on display.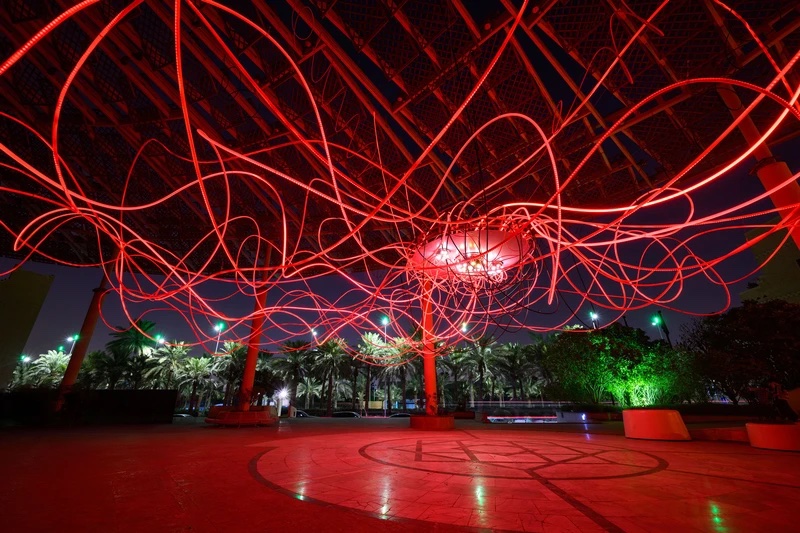 ---
Read more on Vide website (Arabic only): click aquí.