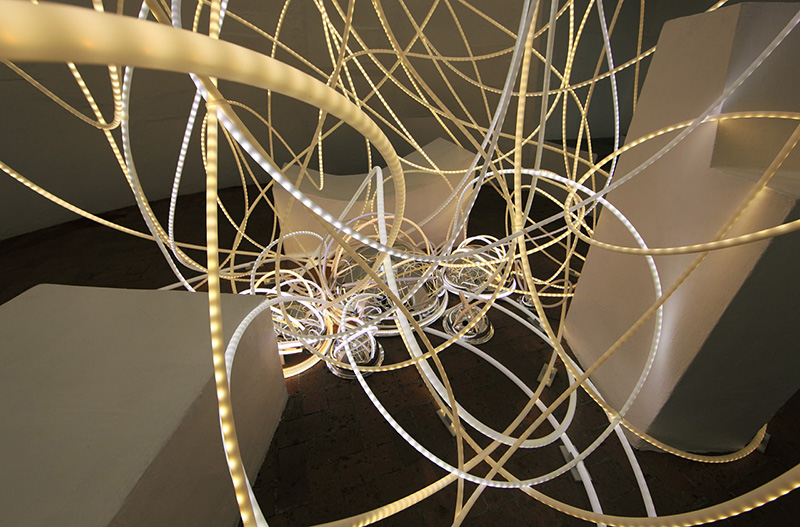 Grimanesa Amorós, Huanchaco, 2012, LEDs, custom lighting sequence, electrical hardware, 13 x 15 x 17 ft.
GRIMANESA AMORÓSHuanchaco
Luis Javier de la Torre González, Director of Patronato Ruta de la Amistad A.C.
and
Nina Menocal Gallery
are proud to present
Huanchaco
, a large format light sculpture installation by
Grimanesa Amorós
. Named after a small fishing village in northern Peru,
Huanchaco
is installed inside Wind Tower, an existing sculpture by Uruguayan artist Gonzalo Fonseca that was created for the 1968 Mexico City Cultural Olympiad.
Huanchaco
will open to the public on Friday, October 12, 2012, in concert with "Watch Day," a global event sponsored by the World Monuments Fund, which was established in order to preserve heritage sites and local culture. "By installing
Huanchaco
inside the Wind Tower, I establish direct communication with the outside world in which we live, full of activities that surround us at all times for those of us who live in large cites. Mexico City being one of the largest," says Amorós. "Due to its circular shape, the Wind Tower allows the spectator who enters it to feel the space of light that Huanchaco creates in honor of Fonseca. From the start, my goal was to give the spectator a new vision and way in which to experience the Wind Tower where modern technology was used for us to reflect on our own tower."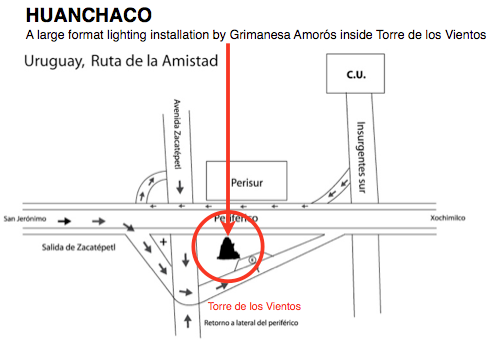 The Patronato Ruta de la Amistad, a non-profit cultural organization, was established in 1994 by Luis Javier de la Torre González and Javier Ramírez Campuzano to preserve and restore the 22 concrete sculptures in the Ruta de la Amistad collection,created for the 1968 Mexico City Cultural Olympiad.In 1996 an artistic intervention program has been started to enable the sculptures to be used by artists and curators for multidisciplinary, temporary an independent projects such as Huanchaco. Nina Menocal Gallery is proud to be part of this major international project together with the Route of Friendship Patronage (within its interventions program), American Express – World Monuments Fund (WMF) and the Peruvian-New Yorker artist Grimanesa Amorós.
Opening: Friday October 12, 2012 during the "Day Watch", World Monuments Fund – American Express
Monday to Friday: 10AM – 5PM by appointment:
[email protected]
Open Saturdays 2PM – 5PM