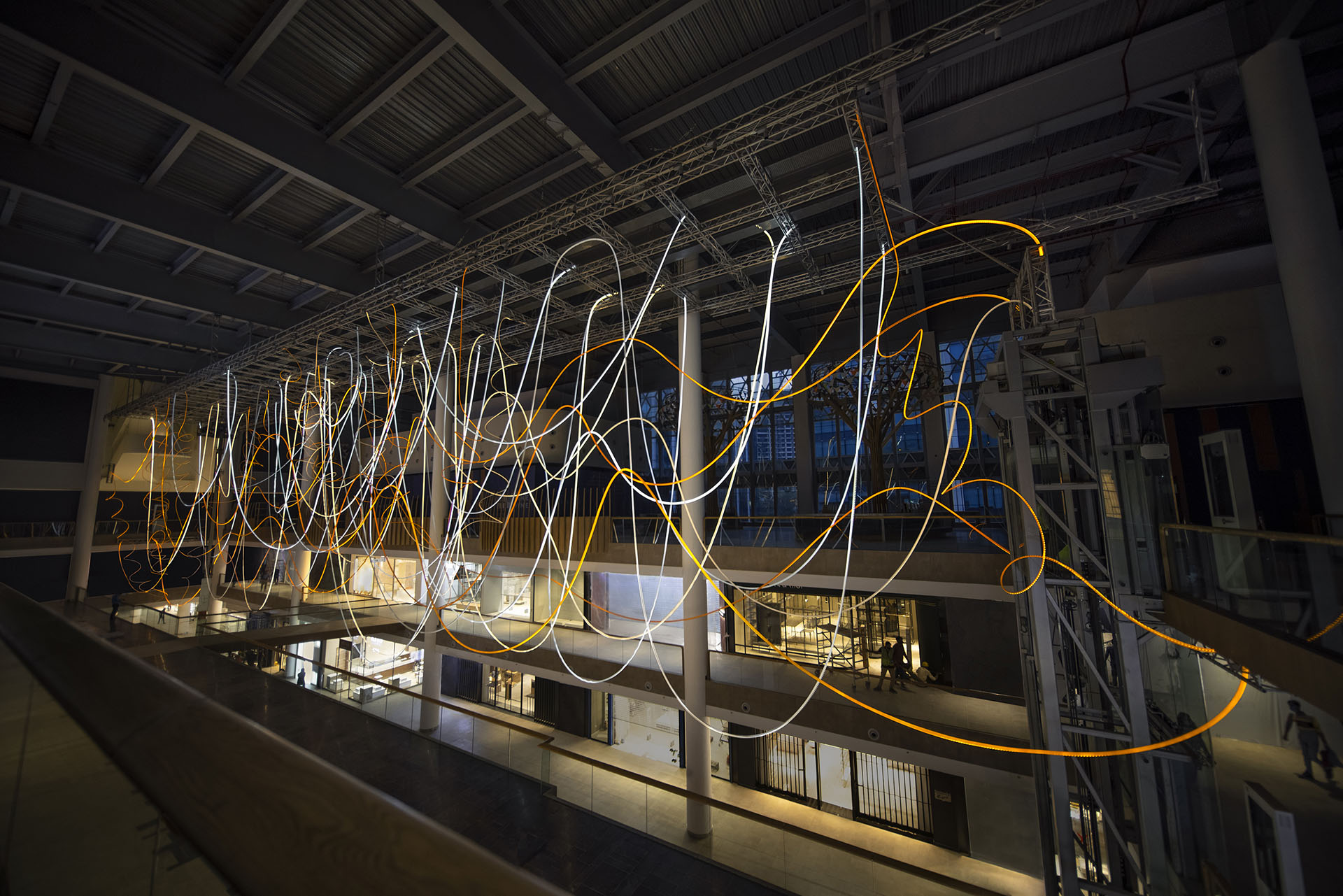 GRIMANESA AMORÓS

GOLDEN ARRAY
Opened to the public October 9th, 2021

Jio World Drive
Bandra Kurla Complex, Bandra East, Mumbai, Maharashtra
jioworlddrive.com




GOLDEN ARRAY: Grimanesa Amorós Creates New Monumental Light Sculpture
Commissioned by The Reliance Group and Maker Maxity.


Mumbai – GOLDEN ARRAY, a large-scale, site-specific light sculpture by artist Grimanesa Amorós has opened to the public in India at JioWorld Drive, Mumbai's premium retail district in Bandra Kurla Complex.

Amorós' masterpiece, GOLDEN ARRAY, was inspired by her journey through India. India's bustling streets are synonymous with its zigzagging cable lines- a complex collection of wires powering entire cities and towns with electricity and telecommunication. Tangled, yet functional. Beyond utility, they form an integral part of the urban blueprint. This powerful imagery fascinated Amorós.

GOLDEN ARRAY adds to these many communication layers by inviting the viewer to imagine and reflect on the elaborate array that interconnects us. The piece will activate the skyline of Jio World Drive at Bandra Kurla Complex as a tribute to the buzzing city Mumbai.

About Grimanesa Amorós

Grimanesa Amorós was born in Lima, Peru, and lives and works in New York City. She is an interdisciplinary artist whose diverse interests include social history, scientific research, and critical theory. Amorós researches the locations, cultural heritage, and communities of the installation sites. A direct relationship to technology is one of the distinctive features of Amorós' practice. Her works incorporate video, lighting, and technological elements to create site‐specific light sculptures involving architecture and engaging the community.

For more information about Grimanesa Amorós, visit grimanesaamoros.com

About Jio World Drive

A curated fusion of diverse never-before-seen art installations, brands, pop culture, and other unforgettable experiences, Jio World Drive is a space for gatherings and audiences to communicate with one another, both physically and creatively. https://jioworlddrive.com/#art-section

About Reliance Group

Reliance Group is among India's top private sector businesses serving customers across telecommunications, energy, financial services, infrastructure, entertainment, and healthcare.

The Reliance Group positively influences the lives of one in every five people living across more than 25,000 cities and towns throughout India.


#GrimanesaAmoros #GrimanesaxJWD #GrimanesaxJioWorldDrive #GoldenArrayByGrimanesaAmoros #JWDPublicArtPrecinct #LightSculpture #LightInstallation #JioWorldDrive #JioWorldDriveArtWorks #GoldenArrayAtJWD #GoldenArrayJioWorldDrive #ArtAtJWD #PublicArtJWD #ArtInstallation