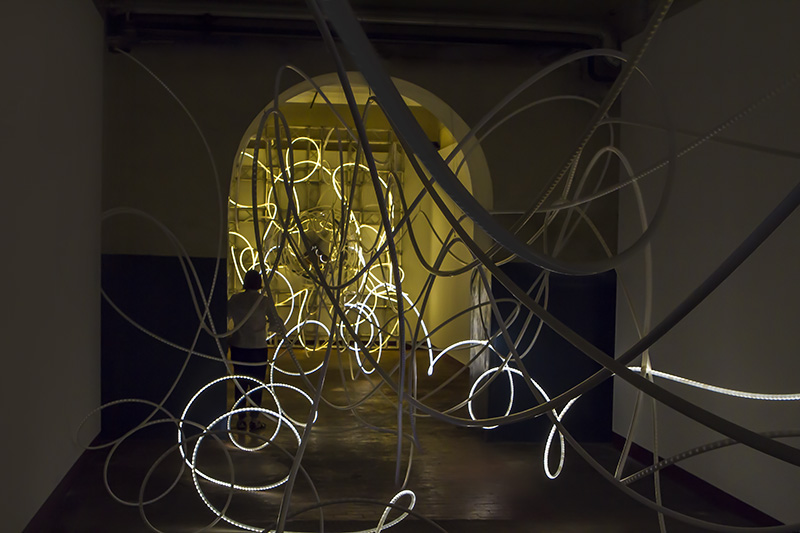 FORTUNA, 2013

Calle de Embajadores, 53, 28012 Madrid, Spain
LA FRAGUA, TABACALERA
September 14th through November 24th, 2013 Opening reception: Sept. 13th, 2013 at 7:30PM
Artist Tour September 14th 12:30PM, 2013
MADRID – Ministry of Education and Culture, is proud to present
FORTUNA
, a light sculpture installation from a recent series of works by Peruvian artist Grimanesa Amorós. The installation, which will be on view from September 14th through November 24th, 2013.
Statment
On one of my trips to Madrid I was fortunate enough to visit, and photograph the magical Tabacalera. Immediately, I thought to myself how wonderful it would be to have the opportunity to create a project in this space. Then, feeling inspired, I asked my guide to save all of the rolling paper for me. I knew I would use this paper one day for my work.
FORTUNA
, located in the Tabacalera, is a light sculpture that reflects the history of the old Tobacco factory, which was there before the art center. The name
FORTUNA
comes from the filters that were used for the La Tabacalera cigars. When a cigar is lit, the papers that surround the tobacco start to disintegrate from the heat. It is the filter, however, that allows the tobacco flavor to come through before it comes to an end. During the 1700s, cigars were widely popular and could be smoked by all. Everyone could be fortunate to own it, hence the concept of sharing. From sharing comes the fortune of doing good for others.
Grimanesa Amorós
(born in Lima, Peru) is an interdisciplinary artist with diverse interests including social history, scientific research and critical theory.  She uses sculpture, video and lighting to create works that illuminate our notions about personal identity and community.  Amorós' work explores the duality between ancient spirituality and modern technology.
About La Fragua,Tabacalera
The building of the former Tobacco Factory of Embajadores is in public ownership and under the Ministry of Culture through the General Directorate of Fine Arts (GDFA). Due to its characteristics, the building is part of the historical heritage and has been listed as Heritage of Cultural Interest.
Click on the link to see more detail
For further information about La Tabacalera contact Conchita Sánchez
[email protected]