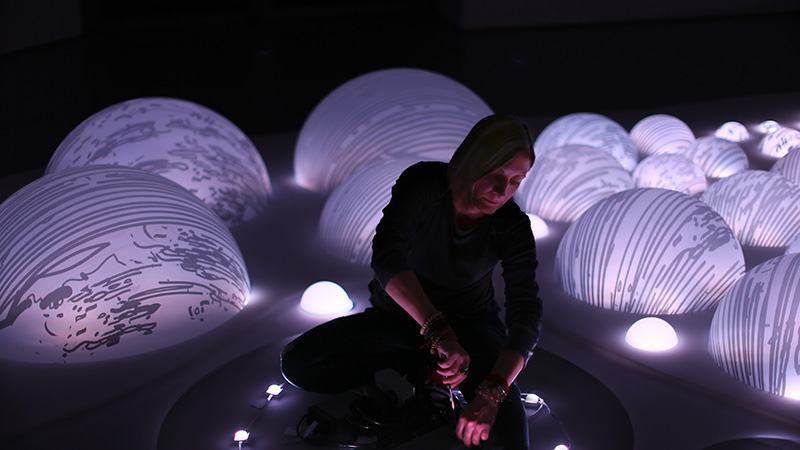 GRIMANESA AMORÓS
Momentum: Women/Art/Technology
July 28th – November 7th, 2014
Reception and Public Lecture: Tuesday, October 28th, 2014 from 5 – 6:30pm
Mary H. Dana Women Artists Series Galleries, Douglass Library
Rutgers University, 8 Chapel Drive, New Brunswick, NJ 08901
The Institute for Women and Art is delighted to announce that
Grimanesa Amorós
has been named the 2014-15 Estelle Lebowitz Visiting Artist in Residence for the Mary H. Dana Women Artists Series and her work will be featured in a solo exhibition in the Women Artists Series Galleries from July 28 – November 7, 2014, as part of a larger, multi- year project,
Momentum: Women/Art/Technology
. Amorós will give a public lecture on Tuesday, October 28th at 5:30pm in the Mabel Smith Douglass Library at Rutgers University. The lecture will be preceded by a reception in honor of the artist at 5pm. RSVP for this event is encouraged (
[email protected]
).
Momentum: Women/Art/Technology
is an exploration into the intersection of technology, art practice and feminism. It presents innovative uses of technology utilized and advanced by women and transgender artists through exhibitions, symposia, film screenings, and public discussions. Since 2011,
Momentum
artists have challenged gender-biased notions of who employs technology and showcased women artists' sustained ability to break new ground in uncharted artistic realms.

For further information about
Momentum: Women/Art/Technology
visit
//iwa.rutgers.edu/programs/momentum/
For press inquiries contact
Nicole Ianuzelli
at
[email protected]
Contact
Chemin Hsiao
at
[email protected]
for information about Grimanesa Amorós
Copyright © 2014 Grimanesa Amorós, all rights reserved