STUDIO STEFANIA MISCETTI

SHE DEVIL 4

via delle Mantellate 14 – 00185 Rome, Italy

T/F+39 68805880, e-mail: [email protected]

Opening: Friday February 12th 2010 from 7pm to 12am

Tuesday to saturday: 4.00 – 8.00 pm

Closing: Saturday March 6th 2010
Studio Stefania Miscetti is pleased to present the Fourth Edition of the video review SHE DEVIL, which, in continuity with the previous editions, this year welcomes a greater number of curators, from the youngest to the most established, proposing itself as an open platform towards new and different experiences. SHE DEVIL is the name of a heroine in the Marvel Comics Universe, Shanna the She Devil, and title of the famous 1989 Susan Siedelman's film. In this circumstance it alludes, in a playful manner, to the diabolic and bizarre spirit with which the artistic experience investigates the day-to-day life. In continuity with the previous Editions of the review, the videos represent the female points of view and place the various fields of the video art research in direct contrast with one another. The purpose of the initiative is to stress, at times using irony, at times realism, the collective consciousness on themes such as female identity, the body as repository of representation and meaning, and personal experiences on universal dimensions, even when the very intimacy of the artists is at the forefront of their works. The works presented in this edition, selected from both Italian and International sources – from Africa to Americas, to Asia, to Europe – investigate more specifically the discourse on women and power, vulnerability, the relationship with identity, image, body, tradition, the role assumed and undergone in both domestic and professional contexts. Through the combination of diverse expressive languages and perspectives, the exhibition aims to investigate a complex and pregnant subject, and to present video works, never showed in Rome before, which on the whole are able to stress a strong and proactive response to the present time.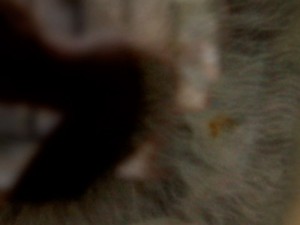 Grimanesa Amorós – Preoccupation, 2008, 1'12''
Curator, Manuela Pacella
Pupilla, bambolina (questo il suo significato in latino), quel foro stenopeico che calibra la luce, che riflette in miniatura l'immagine che ha di fronte e la proietta all'interno del bulbo oculare, sulla retina la quale a sua volta la invia al cervello per elaborarla, decodificarla e confrontarla col nostro vissuto visivo e conoscitivo.
In Preoccupation l'immagine riflessa sulla pupilla ingrandita è altamente iconica e la sua carica simbolica impedisce di distogliere lo sguardo, non importa se maschile o femminile; quella sagoma è ormai catalogata nell'immaginario collettivo come segnale di sottomissione sessuale femminile.