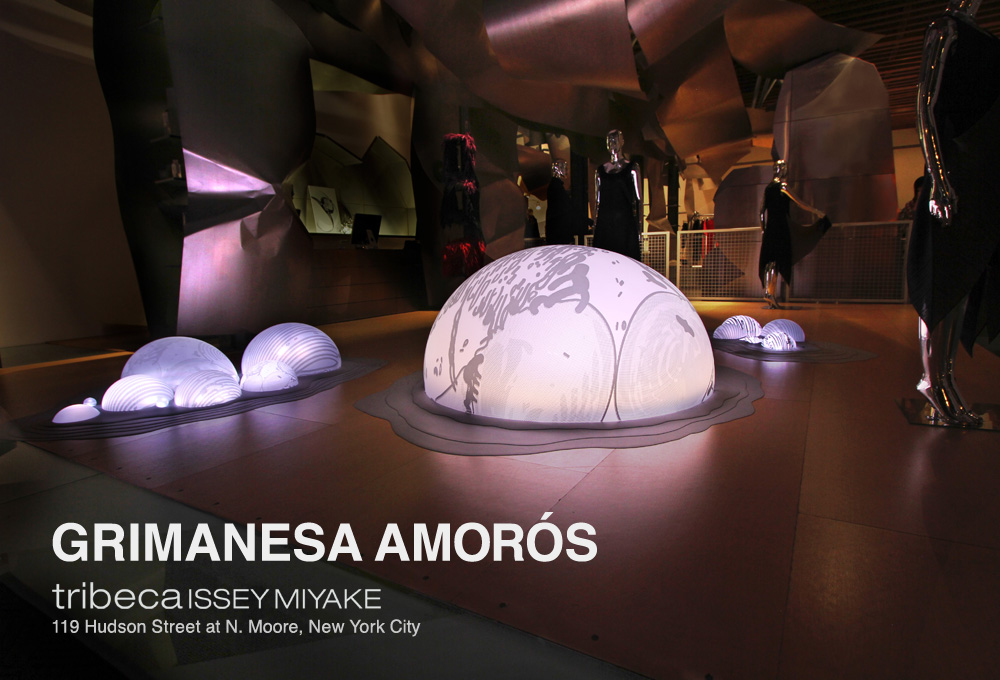 November 14, 2011 – January 14, 2012tribeca ISSEY MIYAKE is proud to present Uros by Grimanesa Amorós. Off the coast of Puno, Peru are the Uros Islands. They are floating islets made of totora reeds grown in Lake Titicaca. The pre-Incan Uros, who live on these forty-two self-fashioned floating islands, build everything out of this material – from houses to boats to watch towers. Amorós created Uros to reflect the natural elegance of sea foam and totora reeds. tribeca ISSEY MIYAKE is a Frank Gehry designed US flagship store featuring all Issey Miyake collections.
LOCATION tribeca ISSEY MIYAKE, 119 Hudson Street at N. Moore, New York City
tribeca ISSEY MIYAKE, opened in 2001, is celebrating its 10-year anniversary as the site for the Miyake US headquarters and flagship store carrying all Issey Miyake collections. Featuring a titanium "intervention" or sculpture by Frank Gehry that winds its way through the space, tribeca ISSEY MIYAKE acts as a retail store, laboratory, and atelier; a place for new talent, the unexpected, and the excitement that lies within the power of creation. For these reasons, tribeca ISSEY MIYAKE often hosts up-and-coming and established artists, as well as lectures, and performances.
For further information regarding Grimanesa Amorós and the Uros installation, or tribeca ISSEY MIYAKE respectively please contact:
Robert von Leszczynski
, Marketing Communications Officer, Issey Miyake USA, 212.226.1334 ext. 222,
[email protected]
and visit
tribecaISSEYMIYAKE.com
Wendy Liang
, Studio Manager, Grimanesa Amorós Studio, 212.941.9787,
[email protected]