I am so thrilled to be a part of this exhibition with the sculptural dress, Precious Nipples, which I collaborate with designer Manuel Fernandez. It was worn by actress Juana Acosta and selected as the featured image by photographer Omar Ayyashi to represent The Exhibition N5. N5 is an organization created to defend all genders' rights and empower all women and girls.
Thursday Feb. 11th to March 14th, 2021
REAL JARDIN BOTANICO
Plaza de Murillo, 2, 28014 Madrid, Spain



GRIMANESA AMORÓS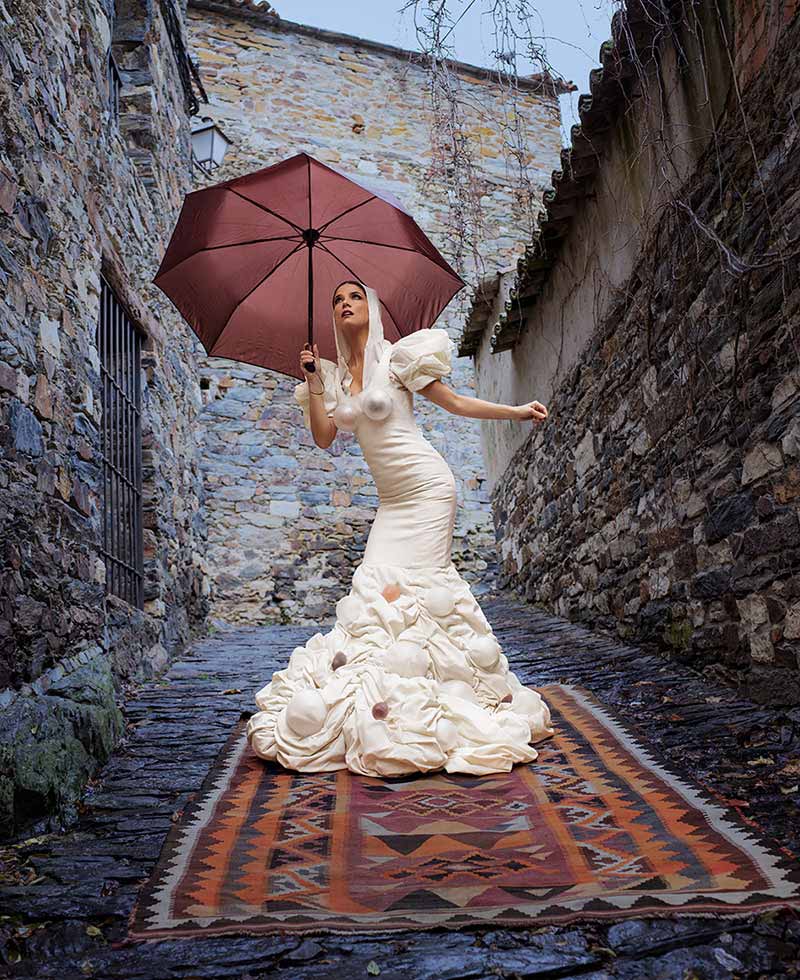 PRECIOUS NIPPLES by Grimanesa Amorós collaboration with fashion designer Manuel Fernandez and photographer Omar Ayyashi
Actress Juana Acosta and photo © Omar Ayyashi

 OMAR AYYASHI
Lograr la igualdad entre los géneros y empoderar a todas las mujeres y las niñas
N.5 is an exhibition project created by Manuel Fernández for the Fashion Art Institute and Omar Ayyashi. It addresses the fifth sustainable development objective (ODS) set by the European Union in its 2030 plan. The photographs address the different ODS number five raises in everyday life situations. The dresses have been photographed with actresses such as Belén Rueda, Paz Vega, Juana Acosta, Anna Castillo, Cayetana Guillén Cuervo. These actresses wear Manuel Fernández, designed exclusively for "Fashion Art Institute" lighting artist Grimanesa Amorós intervene Precious Nipples, which Juana Acosta wore.

N.5 es un proyecto expositivo ideado por el diseñador Manuel Fernández para Fashion Art Institute y el fotografo Omar Ayyashi que aborda el quinto objetivo de desarrollo sostenible (ODS) marcado por la unión europea en su agenda 2030. Las fotografías abordan las distintas metas que el ODS número cinco plantea, en situaciones de vida cotidiana. Estas se han creado con actrices de primera línea de nuestro cine: Belén Rueda, Paz Vega, Anna Castillo, Cayetana Guillén Cuervo, Ester Expósito son algunos de los personajes inmortalizados para este proyecto de"Fashion Art Institute" Juana Costa fotografiada con Precious Nipples vestido intervenido por Amoros.
For more information, please visit the websites below:
www.omarayyashi.com/  
www.fashionartinstitute.org  
www.lafabrica.com/madriddesignfestival/actividad/n5/  
www.rjb.csic.es/jardinbotanico/


#grimanesaamoros #N5porlaigualdad #n5omarayyashi #fashionartinstitute