ARC Magazine 128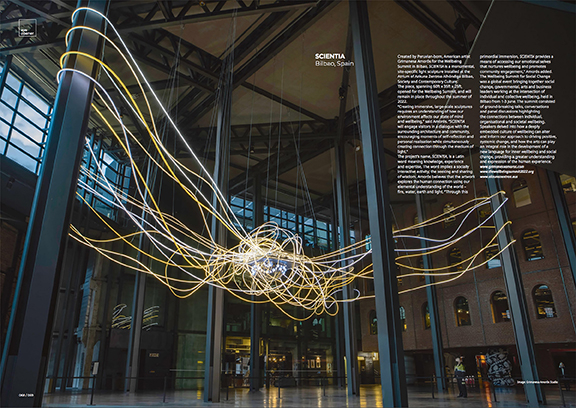 ARC Magazine 128 Eye Opener 
June 2022 by Matt Waring
Created by Peruvian-born, American artist Grimanesa Amorós for the Wellbeing Summit in Bilbao, Scientia is a monumental, site-specific light sculpture installed at the Atrium of AZKUNA ZENTROA-ALHÓNDIGA BILBAO, Society and Contemporary Culture.
The piece opened for the Wellbeing Summit, and will remain in place throughout the summer of 2022. "Creating immersive, large-scale sculptures requires an understanding of how our environment affects our state of mind and wellbeing," said Amorós. "Scientia will engage visitors in a dialogue with the surrounding architecture and community, encouraging moments of self-reflection and personal realization while simultaneously creating connection through the medium of light."
The project's name, Scientia, is a Latin word meaning knowledge, experience and expertise, The word implies a socially interactive activity; the seeking and sharing of wisdom. Amorós believes that the artwork explores the human connection using our elemental understanding of the world – fire, water, earth and light. "Through this primordial immersion, Scientia provides a means of accessing our emotional selves that nurtures wellbeing and promotes community engagement," Amorós added.
Amorós' artwork explores community connection within the intersection of history, technology and architecture. Her monumental lighting sculptures incorporate video, lighting and electronic elements to create immersive environments.
The Wellbeing Summit for Social Change was a global event bringing together social change, governmental, arts and business leaders working at the intersection of individual and collective wellbeing, held in Bilbao from 1-3 June. The summit consisted of groundbreaking talks, conversations and panel discussions highlighting the connections between individual, organizational and societal wellbeing. Speakers delved into how a deeply embedded culture of wellbeing can alter and inform our approach to driving positive, systemic change, and how the arts can play an integral role in the development of a new language for inner wellbeing and social change, providing a greater understanding and expression of the human experience.
www.thewellbeingsummit2022.org
Please read the article on the Arc Magazine Website: click here.