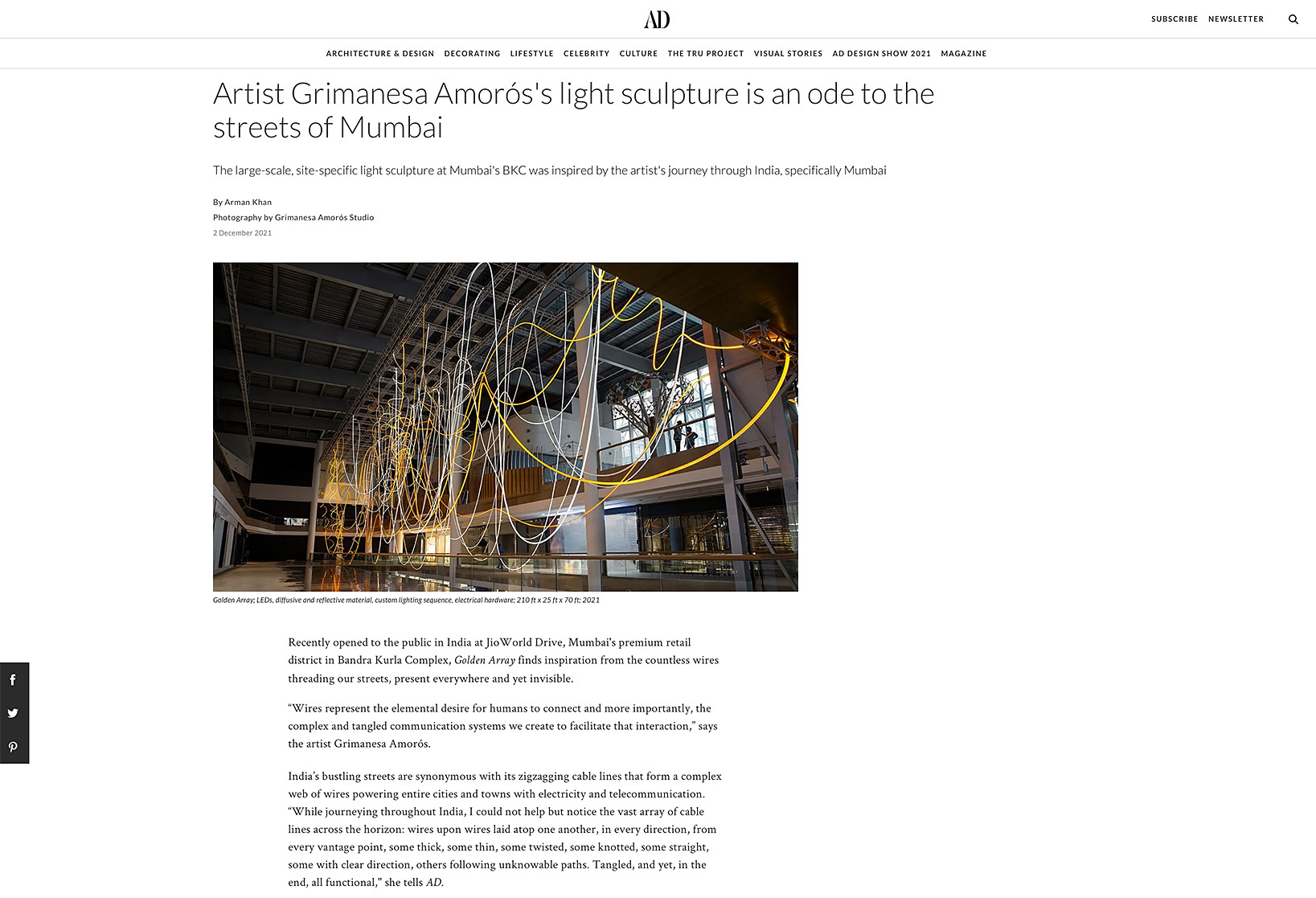 Artist Grimanesa Amorós's light sculpture is an ode to the streets of Mumbai
The large-scale, site-specific light sculpture at Mumbai's BKC was inspired by the artist's journey through India, specifically Mumbai
Recently opened to the public in India at JioWorld Drive, Mumbai's premium retail district in Bandra Kurla Complex, Golden Array finds inspiration from the countless wires threading our streets, present everywhere and yet invisible.
"Wires represent the elemental desire for humans to connect and more importantly, the complex and tangled communication systems we create to facilitate that interaction," says the artist Grimanesa Amorós.
Concept of Golden Array
India's bustling streets are synonymous with its zigzagging cable lines that form a complex web of wires powering entire cities and towns with electricity and telecommunication. "While journeying throughout India, I could not help but notice the vast array of cable lines across the horizon: wires upon wires laid atop one another, in every direction, from every vantage point, some thick, some thin, some twisted, some knotted, some straight, some with clear direction, others following unknowable paths. Tangled, and yet, in the end, all functional," she tells AD.
About Grimanesa Amoros
For her upcoming projects in cities such as New York, San Diego, Nebraska, Miami—and even in countries like Mexico, Spain, Germany, and Turkey—she hopes to weave in technology effectively.
"My curiosity creates endless opportunities for risk," she says, "and I enjoy experimenting with new technologies. Every day, I live a new day in romance with the unknown, which means that one never knows what will be coming into our lives next."
Read the article on AD website, click here.
Download the article, click here.