Ars Magazine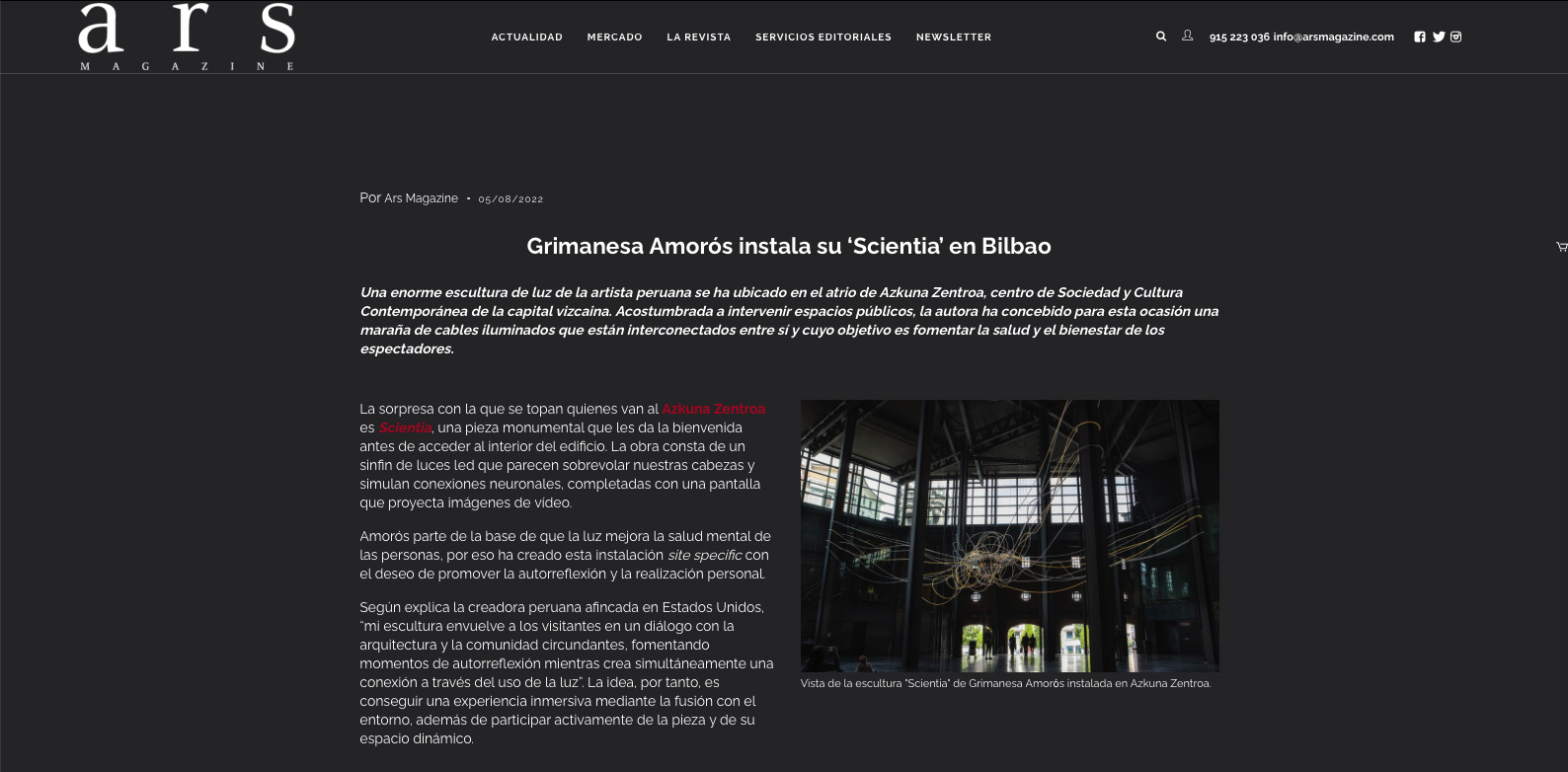 Grimanesa Amorós instala su 'Scientia' en Bilbao
Una enorme escultura de luz de la artista peruana se ha ubicado en el atrio de Azkuna Zentroa, centro de Sociedad y Cultura Contemporánea de la capital vizcaina. Acostumbrada a intervenir espacios públicos, la autora ha concebido para esta ocasión una maraña de cables iluminados que están interconectados entre sí y cuyo objetivo es fomentar la salud y el bienestar de los espectadores.
La sorpresa con la que se topan quienes van al Azkuna Zentroa es Scientia, una pieza monumental que les da la bienvenida antes de acceder al interior del edificio. La obra consta de un sinfin de luces led que parecen sobrevolar nuestras cabezas y simulan conexiones neuronales, completadas con una pantalla que proyecta imágenes de vídeo.
Amorós parte de la base de que la luz mejora la salud mental de las personas, por eso ha creado esta instalación site specific con el deseo de promover la autorreflexión y la realización personal.
Según explica la creadora peruana afincada en Estados Unidos, "mi escultura envuelve a los visitantes en un diálogo con la arquitectura y la comunidad circundantes, fomentando momentos de autorreflexión mientras crea simultáneamente una conexión a través del uso de la luz". La idea, por tanto, es conseguir una experiencia inmersiva mediante la fusión con el entorno, además de participar activamente de la pieza y de su espacio dinámico.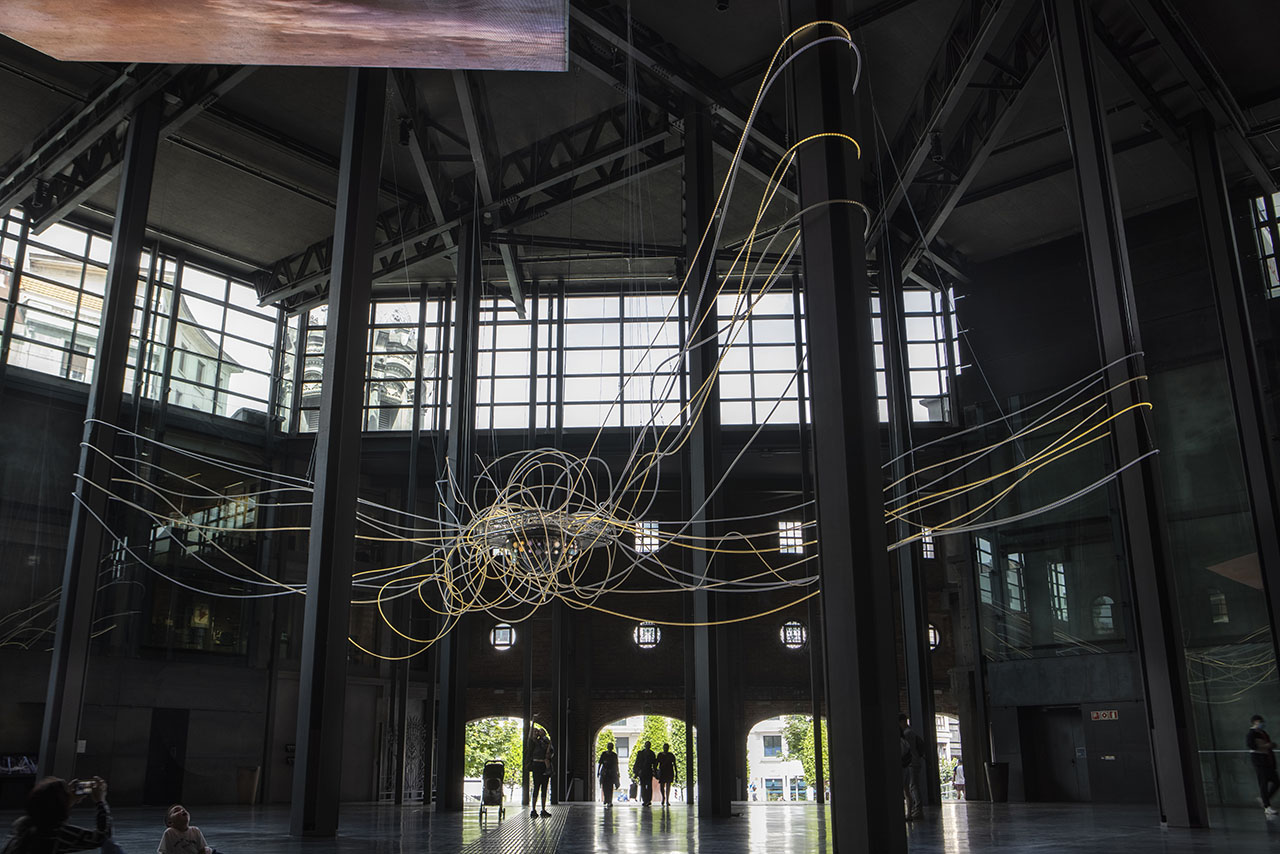 Vista de la escultura "Scientia" de Grimanesa Amorós instalada en Azkuna Zentroa.
Una vez más, Grimanesa Amorós explora con su trabajo el vínculo que se establece entre vídeo, ciencia, tecnología y arquitectura, siempre con la mirada puesta en las comunidades y sociedades que pueblan los edificios públicos que interviene.
El título de la instalación –Scientia– se refiere a una palabra latina que evoca el "conocimiento", la "experiencia" y la "pericia". Todos estos conceptos se encuentran integrados en la obra de gran formato que hasta el 31 de agosto podrá contemplarse –y experimentarse– en el centro de Sociedad y Cultura Contemporánea de Bilbao.
El proyecto se enmarca en el programa alrtístico que acompaña el primer congreso internacional The Wellbeing Summit for Social Change celebrado el pasado mes de junio en esta misma ciudad.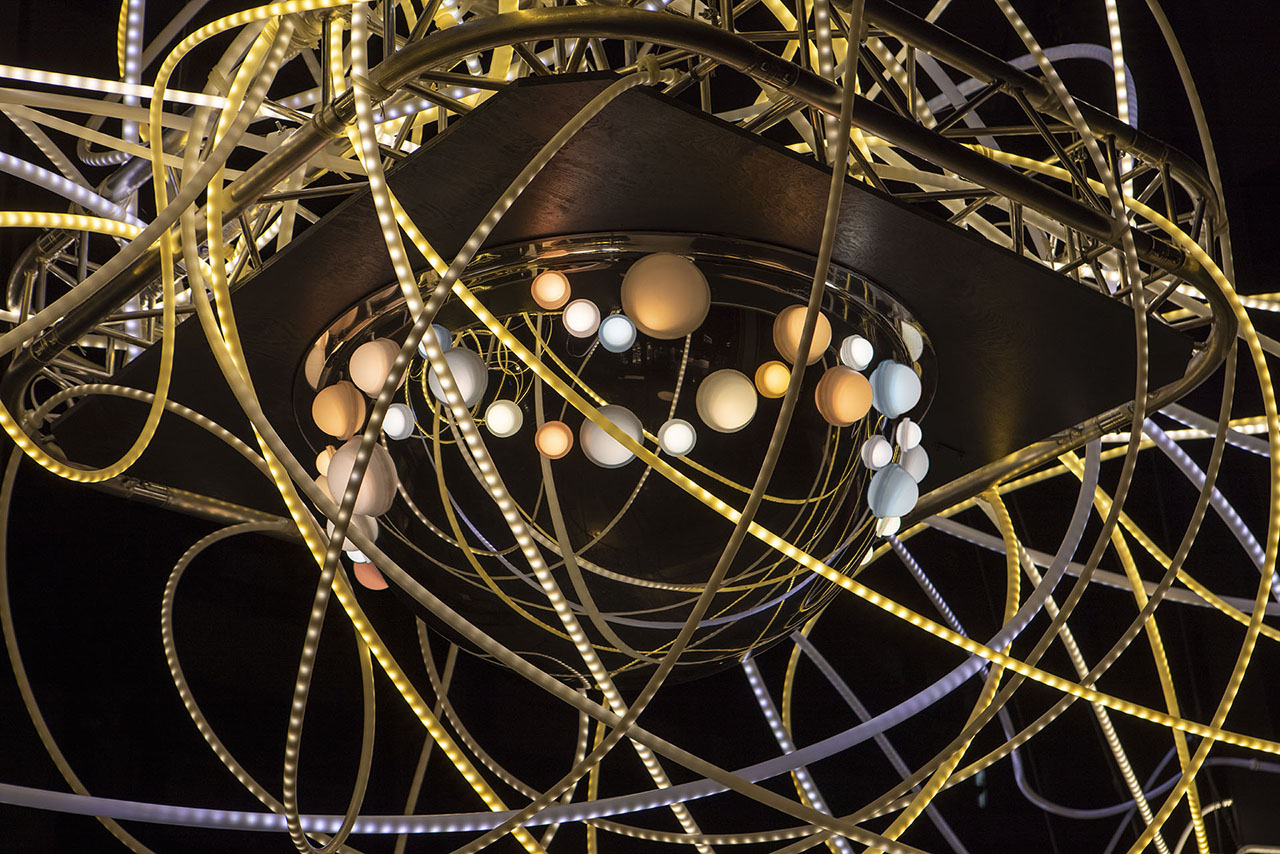 Detalle de Scientia, obra monumental lumínica realizada por Grimanesa Amorós.
---
Read more on the official website of Ars Magazine, click here.