Al borde del lago una burbuja
Ning n artista ve las cosas como son en realidad;
si lo hicieran, dejar an de ser artistas (O. Wilde)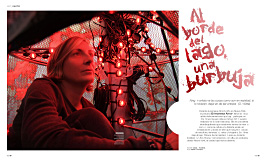 Read More: DOWNLOAD THE PDF
Durante la semana Armory Arts en Nueva York, la peruana Grimanesa Amorós fue la nica artista latinoamericana que logr participar en The Times Square Alliance Show 2011, evento realizado en la Gran Manzana. Ella es una artista interdisciplinaria que transofrma temas de inters comn, como la cultura y la historia social, en instalaciones y obras de arte que incluyen t cnias de escultura, iluminacion, video, y fotografa. Su ltimo viage al lago Titicaca fue inspiracion para su reciente instalacion, Uros House. Conversamos con ella, en exclusive, desde Nueva Yprl, la cuidad que nuna duerme.
Los Uros, si no lo saban ya, eran los antiguos pobladores de la zona del Altiplano, en tiempos remotos, cuando a n no existían los incas. Son 42 islas flotantes en los alrededores del lago Titicaca, construidas a manera de vividendas y hechas con casas de totora. Hoy, a kil metros de distancia de esas islas Grimanesa Amoros pasa sus d as en Neuva York, aunque la escarapela blanquirroja la lleva en el coras n, pues aqu naci y vivi las doas primeras d cadas de su vida. Su fascinacion por el mar (en general, por lo l quido) y su genio creative fueron la combinacion id nea para rescatar la esendia de esas casas de totora y tambien para transformarlas en una estructura de formas esf ricas que simulant ser las burbujas del lago Titicaca. En suma, una pieza iluminada y controlada en base a un Sistema inteligente, sin perder la forma original.