BK Reader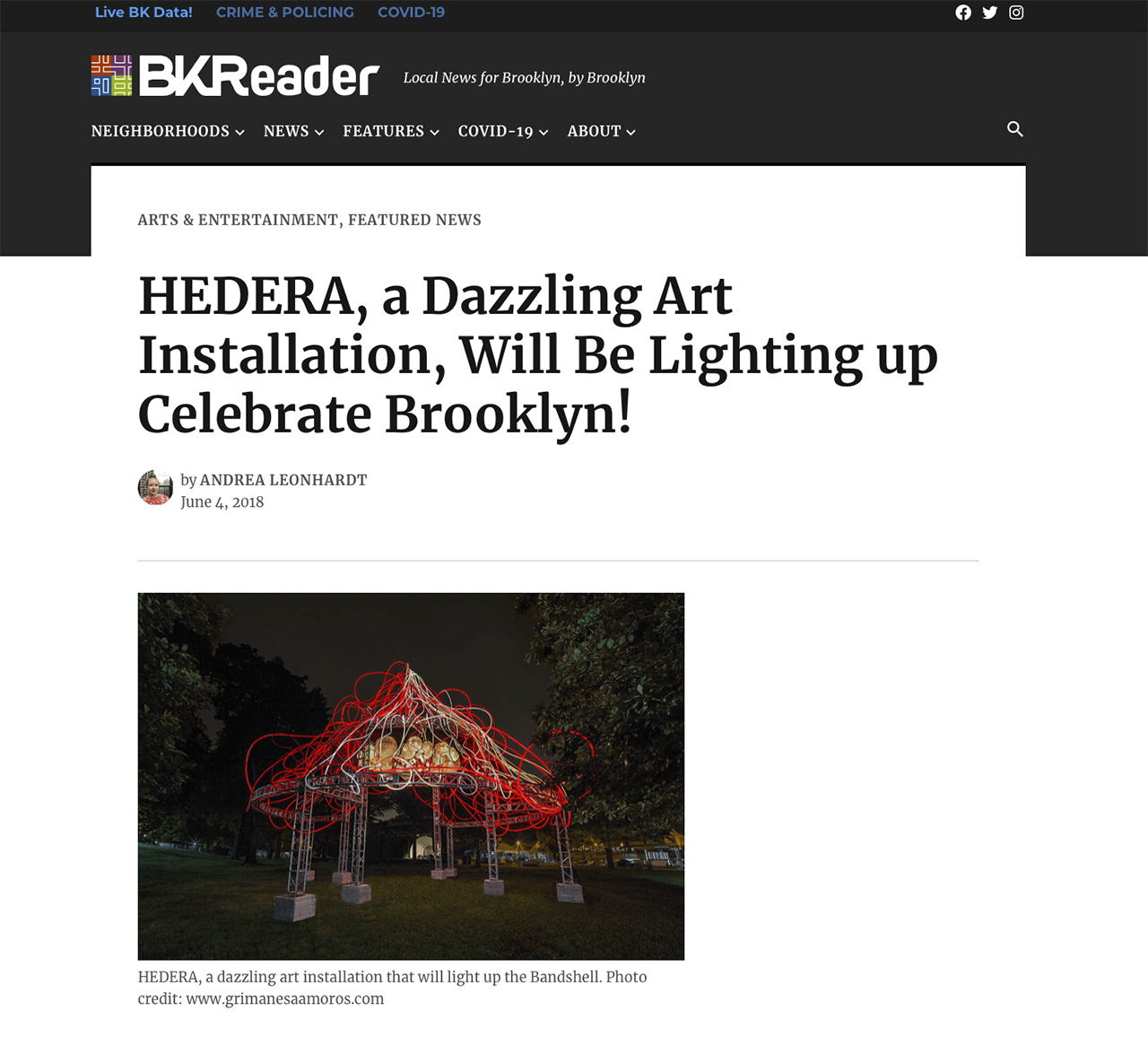 HEDERA, a Dazzling Art Installation, Will Be Lighting up Celebrate Brooklyn!
  By Andrea Leonhardt June 4, 2018
Inspired by the natural beauty and grandeur of Prospect Park's plant life, HEDERA and its dome-like crown will be enveloping the audience and the surrounding space in luminous light and color.
Brooklynites who are flogging to tomorrow's opening of BRIC's Celebrate Brooklyn! will not only be in for a special musical treat with headliner Common but also will have their visual senses vowed. As part of its 40th year anniversary season, BRIC has commissioned HEDERA, a monumental light structure by Grimanesa Amorós, which will be on view from June 5, to August 11. 
"As the first major artwork to be installed as part of the Festival, I wanted to work with an artist whose work could complement the scale and complexity of the site, while also making a statement in its own right," said Elizabeth Ferrer, BRIC's VP of Contemporary Art said. "Grimanesa's work will act as a beacon, a focal point of creativity and energy that will offer a singular experience to our diverse audience."
The concept of the light installation HEDERA
With HEDERA, which means "ivy" in Latin, Amorós created a custom dazzling light installation. LED tubes, creating a lighting sequence of flowing and pulsating red and white tubing, both cover the structure and create an immersive environment for viewers who will freely walk underneath and around the work. Visitors who venture into the center of HEDERA will see their own reflection in the cupola above. In the center of the installation, viewers can discover smaller protruding domes—forms that suggest a plant's central bud. Their reflective shadows will offer images of a flower blooming, of growth and creation. 
About the artist 
Amorós is an interdisciplinary New York-based Peruvian artist who researches the locations, histories and communities of her installation sites to inspire her work, to present an intuitive relationship between her art and its surroundings. Rather than interrupt the natural flow of people and events in the park, HEDERA's light sequences are meant to reflect and amplify its environment.
About the light art
For its structure, Amorós took inspiration from the form of the Bandshell and the natural beauty and grandeur of the park's landscape. The sculpture, measuring some 40 ft x 40 ft x 24 ft., will be raised above the lawn by a cone-shaped truss, its dome-like crown enveloping the audience and the surrounding space in luminous light and color. With HEDERA, Amorós wants to bring the viewers closer to an ideal world where individuals can unite in celebration of creativity, nature, diversity and a shared humanity.
BRIC 
"I am thrilled to be partnering with the BRIC Celebrate Brooklyn! Festival on the occasion of their 40th anniversary," said Amorós. "HEDERA's overall structure was inspired by the natural beauty and grandeur of Prospect Park's plant life. For me, HEDERA is a romance with the unknown." And if HEDERA will be enchanting you and you wish to meet its creator, BRIC is hosting an artist reception with Grimanesa Amorós on Saturday, June 23, 6:00 pm, at the Bandshell.