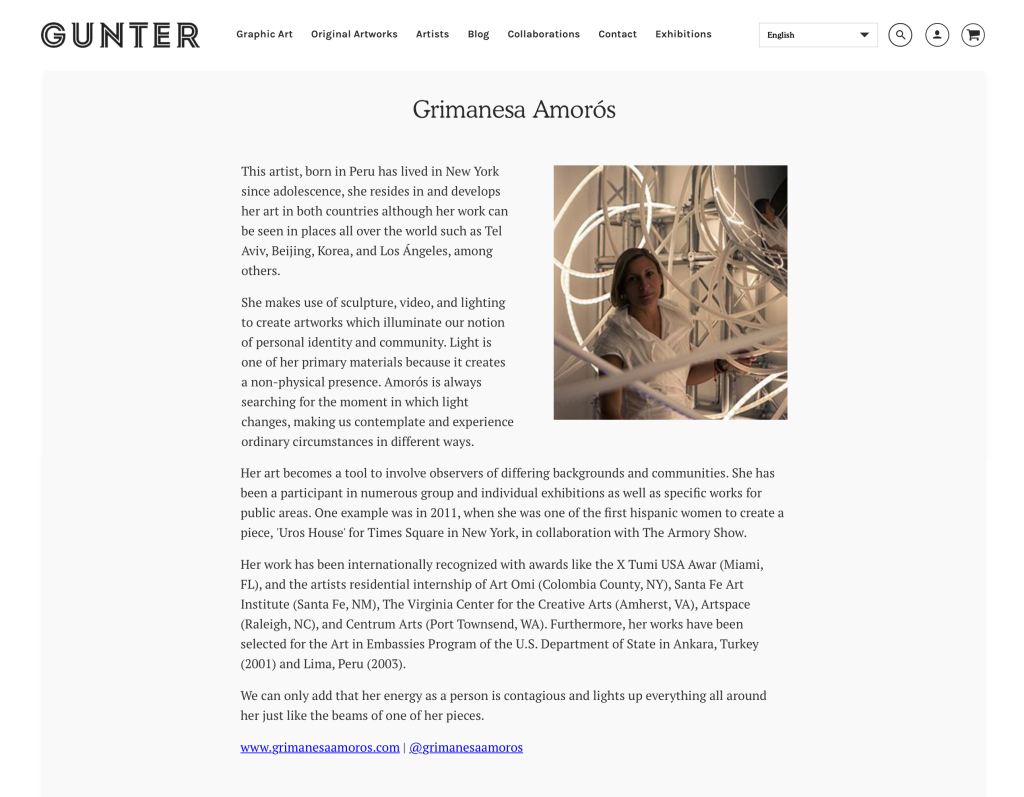 Grimanesa Amorós
This artist, born in Peru has lived in New York since adolescence, she resides in and develops her art in both countries although her work can be seen in places all over the world such as Tel Aviv, Beijing, Korea, and Los Ángeles, among others.
She makes use of sculpture, video, and lighting to create artworks that illuminate our notion of personal identity and community. Light is one of her primary materials because it creates a non-physical presence. Amorós is always searching for the moment in which light changes, making us contemplate and experience ordinary circumstances in different ways.
Her art becomes a tool to involve observers of differing backgrounds and communities. She has been a participant in numerous group and individual exhibitions as well as specific works for public areas. One example was in 2011, when she was one of the first hispanic women to create a piece, 'Uros House' for Times Square in New York, in collaboration with The Armory Show.
Her work has been internationally recognized with awards like the X Tumi USA Awar (Miami, FL), and the artists residential internship of Art Omi (Colombia County, NY), Santa Fe Art Institute (Santa Fe, NM), The Virginia Center for the Creative Arts (Amherst, VA), Artspace (Raleigh, NC), and Centrum Arts (Port Townsend, WA). Furthermore, her works have been selected for the Art in Embassies Program of the U.S. Department of State in Ankara, Turkey (2001) and Lima, Peru (2003).
We can only add that her energy as a person is contagious and lights up everything all around her just like the beams of one of her pieces.
Read the article on Gunter Gallery click here 
Download the article click here