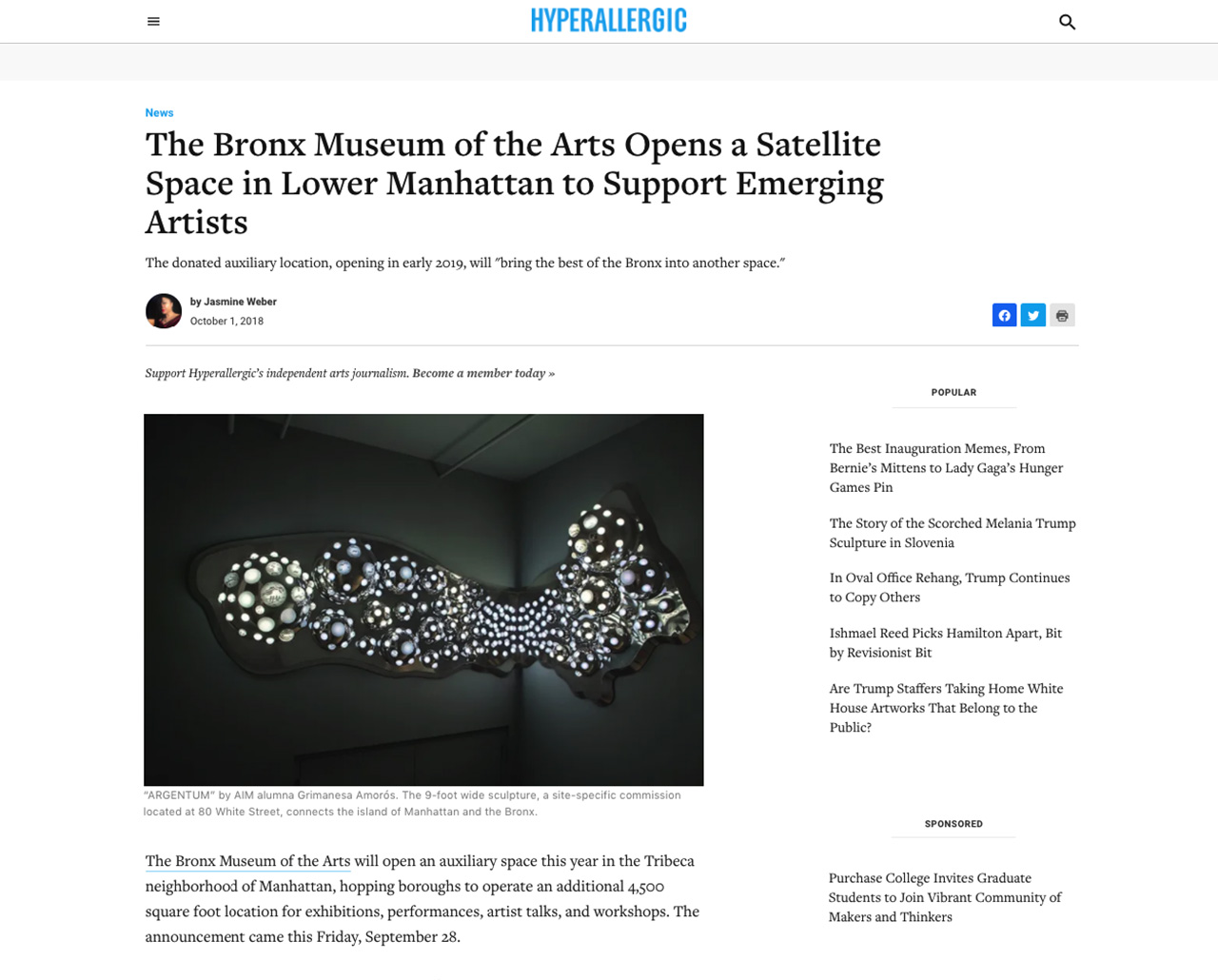 The Bronx Museum of the Arts will open an auxiliary space this year in the Tribeca neighborhood of Manhattan, hopping boroughs to operate an additional 4,500 square foot location for exhibitions, performances, artist talks, and workshops. The announcement came this Friday, September 28.
The Bronx Museum, which operates with a $3.8 million annual budget, is undergoing a pivotal transition under the new directorship of Deborah Cullen, who previously headed the Wallach Art Gallery at Columbia University and El Museo del Barrio in East Harlem. The Museum's Bronx building currently has 36,000 square feet of exhibition space.
The museum announced its intentions to utilize the location at 80 White Street, focusing on expanding the program Artist in the Marketplace (AIM) by supporting 36 emerging artist fellows and 10 alumni residents. The artist-training program offers career management, mentorship, peer and professional support, and studio access, reinforcing "the museum's mission to champion under-recognized voices and support innovative cultural production to ensure that New York's diverse creative community continues to thrive."
Deborah Cullen said in a press release, "Room for artists to work, think, and experiment is vital. This new program at 80 White Street will afford exactly this opportunity. We are committed in our advocacy for artists and to the importance of programs like AIM."
"ARGENTUM" by AIM alumna Grimanesa Amorós. The 9-foot wide sculpture, a site-specific commission located at 80 White Street, connects the island of Manhattan and the Bronx.
The museum was gifted the space by Teresa Liszka, Martin Weinstein, and Gerald Weinstein. The donation, as is, will allow the Bronx Museum occupation of the Tribeca building for seven years, cost-free. The incubator will open its doors by early 2019.
In the release, the museum said the satellite location furthers their "mission to support underrepresented artists in New York. Designed to support AIM, the museum's career development program for emerging New York City artists, the space will serve as a community resource hub featuring private workspaces, exhibition facilities, meeting rooms, and career management resources for the creative and professional development of AIM alumni."
"It's an opportunity for us to bring the best of the Bronx into another space," Cullen says. The gifted satellite space accompanies a larger move towards upgrading the museum's Grand Concourse home base. The museum raised over $15 million for improvements, with plans to launch a $10 million endowment campaign, already having received an anonymous contribution of $1 million.