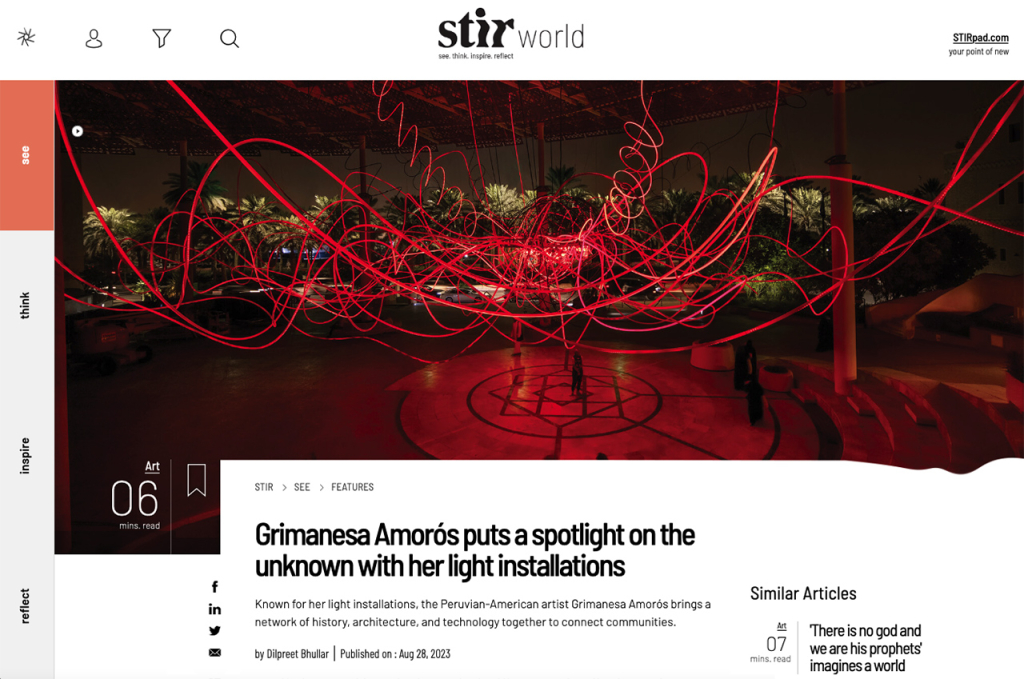 Grimanesa Amorós puts a spotlight on the unknown with her light installations
Known for her light installations, the Peruvian-American artist Grimanesa Amorós brings a network of history, architecture, and technology together to connect communities.
Published on : Aug 28, 2023
The "light at the end of the tunnel" reassures life—breathing and thriving—despite the steep darkness. The presence of light in the large-scale multimedia works of American artist born in Peru, Grimanesa Amorós, serves as metamorphic engagement across disciplines of history, architecture, and technology, building a network of diverse communities. An interdisciplinary artist, Amorós draws considerable inspiration from social history, scientific exploration, and critical theory, significantly informing her creations. By installing and programming each piece on-site, direct engagement with the surrounding architecture emerges as pivotal to her creative process. Ultimately, her work merges viewers, space, and light sculpture into a cohesive entity.
Amorós's deep perception of structure allows her to create monumental sculptures that merge diverse elements like video, light, and electronics, producing immersive environments that tether observers to their surroundings. As her art practice dwells in multiple mediums—sculpture, video, and lighting—one is curious to know how these multiple mediums feed into each other; in other words, what means are used to decide which would lead to what. For Amorós, this is the essence of her creativity— within these challenges, the true identity of an artist is born, and from this crucible, distinct perspectives emerge. An artist is akin to a keeper of mysteries, a guardian of untold tales. It truly depends on the environment, concept, space, and what titillates her interest, which doesn't restrict the process to a single channel.
Amorós introduced light to her artistic practice after a serendipitous journey to Iceland. It led her to famously tout her creations as a "constant romance with the unknown". During her stay, she witnessed the immersive northern lights, recognising the profound ephemeral enchantment light possesses. She explores light's capacity to transcend social and geographical barriers, asserting, "We all share a connection to light." In an interview with STIR, Amorós delves deeper into the philosophy of this statement, "Constant romance with the unknown," revealing, "this approach resonates profoundly because life's path remains uncharted, offering a canvas of infinite possibilities. There is always a way." Her approach to lighting sequences is a testament to this philosophy, a hallmark of creative expression. She continues, "I imbue my sequences with a bespoke essence, allowing the piece's energy to unravel organically. The true essence and character of the work unfurl before me while creating, casting a vibrant energy. Thus, every sequence embodies this 'constant romance with the unknown.' Even if the fundamental structure of her on-site installations is thoughtfully made in advance, the concept of a 'constant romance with the unknown' manifests as the act of embracing life's mysteries, honouring uncertainty, and fusing preparation with improvisation, guiding her journey.
Earlier this year, Amorós had a light installation titled Amplexus, which translates to "embrace" in Latin, at the light festival Noor Riyadh. The immersive light sculpture installation is a manifestation of global identity. Mindful of the history of the architectural space, Amorós, with this installation, puts the spotlight on the cultural legacy of the place to underscore the significance of inclusivity in diversity. The digital element of the installation reimagines the roots of Islamic architecture, which have inspired Amplexus. Installed within the distinctive circular overhang of Riyadh's Cultural Palace, Amplexus, with its sequence of lights, brings the desert to life, connecting the expanse of the sand to the life of the people in the city. Closer to home, Amorós has an installation titled Golden Array at JioWorld Drive in Mumbai. The mesh of wires, part of the installation, bespeaks the hyperconnectivity on which the financial city of India thrives. The omnipresence of the wires, not limited to Mumbai but also spread to different parts of India, reflects the diverse routes of navigation, only shining a light on the inevitable need for communication across Indian communities.
Even when Amorós works with a variety of scales in her artistic endeavors, from expansive canvases to more modest dimensions, she refrains from gauging the spectrum of advantages or disadvantages. "Rather, I see them as facets of the same journey. As an artist, I aim to ignite creativity, even for a moment. Working on a larger scale enables me to connect with a broader audience, observing their interactions, contemplations, and questions. Challenges are inherent, but puzzles seek solutions, waiting to be deciphered. It is about finding a way forward, an outlook that is always available as long as there's life and breath," discloses Amorós.
Given the variety of works Amorós has created over the years, she is cognizant of the fact that not everyone can derive the same meaning from her work. The diversity of meanings anchored by the viewers is what intrigues the artist. "It is the enigma of art's perception—you cannot predict what experiences, memories, or knowledge will shape their engagement," mentions Amorós. The unpredictability propels her to make people think.
—
Read the original article on STIR, click here.