ART / DEAD SERIOUS
DEAD SERIOUS: GRIMANES AMORÓS
by Violet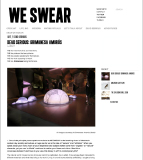 1.    One of the principle preoccupations we have at WE SWEAR is the breakdown of binaries in modern day society and culture, a huge one for us is the idea of "natural" and artificial." When you speak about your work, much of your inspiration and subject matter come from "organic" or "natural" elements, but you use "artificial" mediums to realize your ideas and vision. Was this a conscious decision? And how do you view this binary in art? Contemporary life?
The Natural world moves me, but obviously cannot be replicated. As an artist, I have always been interested in different materials and what they bring to my work. Living in a world surrounded by artificiality, I sought to bring the natural world into these artificial materials. Since I work a lot with technology, I thought merging the two worlds would bring fascinating results.
2.    In your earlier work (2001-2009) you used "artificial" mediums, like silicone and encaustic, but your pieces had very organic and visceral shapes, textures and surfaces. Now with the light bubble forms, everything is clean, smooth. Please tell us about this transition.
I think this was a reaction to working in New York City, which surrounds us with tall buildings and geometric architecture. This is in stark contrast to when I was growing up in Peru, where I was surrounded by organic natural forms—such as water, mountains, vineyards, and even deserts. My current work is a merger of my Peruvian upbringing with now being part of New York City.
3.    Your current signature forms are the light bubbles. They are used in different pieces and often represent different inspirations (the most recent grapes in Racimo, foam in Uros series, life-qualities in Terrarium). How did this form come to represent so many things for you?
When I was a child living on the coast of Peru, I have always loved the beauty of the oceans; everything from the tides to the colors, the bubbles and the foam. I remember growing up I would cover my entire body with this foam, in a way becoming a 'living sculpture'—with my mother of course yelling at me in the background. The structure of water, foam, and bubbles have been recurring themes that seem to permeate throughout all life, and in turn, my work.