GRIMANESA AMOROS
By
Katy Donoghue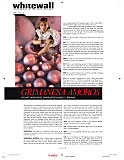 Read More: DOWNLOAD PDF
The popularity of Grimanesa Amorós's work has really exploded in the past few years. Just least year you could see her elaborate installations of bubble0inspired, LED-programmed sculptures in Times Square, at the Venice Biennale, in several other international exhibitions, at select Issey Miyake stores, and even on the cruise ship Allure of the Seas. The LED programs in each sculpture are incredibly elaborate, shifting floors and patterns with precision, their glow and scale creating a unique viewing experience. The inspiration behind the changing colored lights was the aurora borealis. Lately, Amorós has been focused on a recent trip to the Uros Islands in her home country of Peru (she's live in New York for decades). We met her in her expansive studio in Tribeca, New York, late last year to discuss the evolution of her work and her latest sculptures.
WHITEWALL:
You began as a painter but then moved on to sculpture, the medium in which you currently work. How did that transition take place?
GRIMANESA AMOROS:
  Well, I always wanted to sculpt, but you do need space. At the time I was sharing a studio with a lot of other artists and it was a process. Finally, when I had my studio, which is the one I am in still, that's when I started. I was experimenting with handmade paper. Then in the 2000s I transitioned from paper to the materials that I use now.