Grimanesa Amorós: Bridging cultures with light
Thursday Nov. 10 2022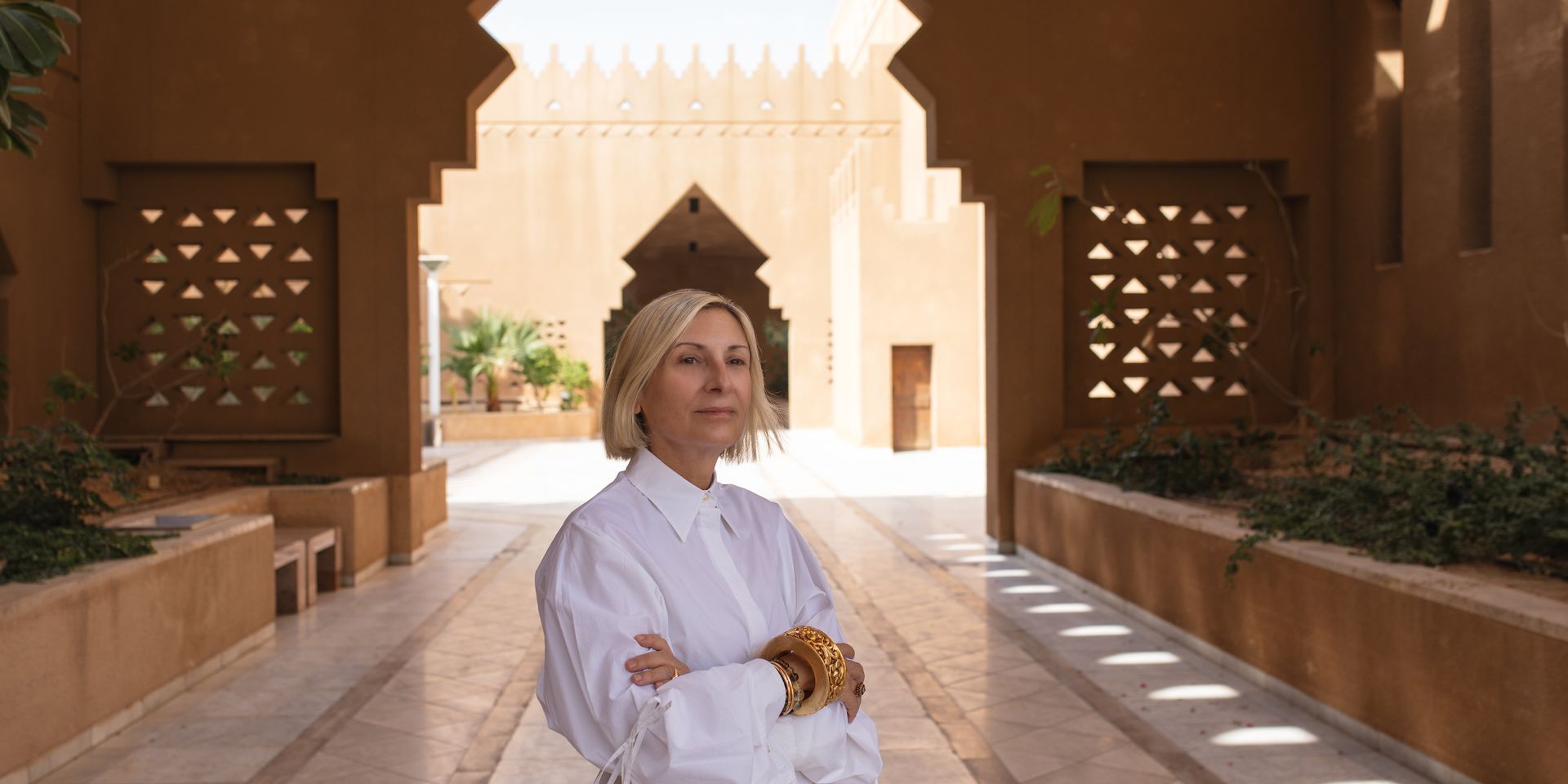 Grimanesa Amorós: Bridging cultures with light
Despite being a world-renowned visual artist predominantly working with light, Noor Riyadh 2022 marks Peruvian-American artist Grimanesa Amorós first ever light festival. Taking over the city's Cultural Palace in the Diplomatic Quarter with an installation measuring over 100ft, Amorós' piece is an expansive commission embodying global identity.
Titled AMPLEXUS, the Latin word for embrace, the piece continues Amorós' artistic approach of surveying cultural landscapes before translating them into ephemeral light sculptures. The striking piece was created specifically for Noor Riyadh, an annual citywide festival of light and art held in Saudi Arabia's capital. Inspired by her time in the city so far, the installation is formed of several details reflecting the city of this festival back onto itself, from a "collective community consciousness, the city's architecture, and the untamed magic of the desert itself."
You first became inspired by light from a postcard your mother sent you of a skyline – can you tell us about that moment?
It's true. When I was 11 my mother was in New York City and sent me a postcard. It was the skyline of the city and she was saying how wonderful it would be if I was there with her. I loved the skyline of New York City, the architecture, the lights, and I always kept that postcard with me next to my bed and to every country I travelled to. It was quite impactful, I realise now, for me to receive that postcard.
Across your travels do you have any favourite locations specifically for their use of light?
I love architecture, but an interesting use of light I experienced was on a visit to Iceland. I had the opportunity to see the Northern Lights and it was so immersive. I had my camera with me, but I had to make a choice: either I want to live in this present moment or see it through my lenses. I made the choice to live in the moment and I couldn't stop saying 'wow'. I thought if only I could share this with others, that would be amazing. It took me a while of course to see how I could then share the ephemeral part of light with others.
How has the landscape inspired your piece for Noor Riyadh?
It's important to know that when I was thinking about the piece for Riyadh I was inspired by the Latin word for embrace. I was thinking how embracing is actually very collaborative, to share how you give wisdom, when creating a piece on how human beings want to be able to connect to elements and understand our own universe. Light is part of this universe, and we don't often think about it as much as the water or the air, or the earth itself.
For me, the piece communicates directly with the historical architecture of its space in the Cultural Palace. I did a lot of studies around the architecture and surrounding environment. It's a way for me to connect and how the city of Riyadh is continuously evolving.
The piece also takes direct inspiration from the Islamic architecture I have been very interested in. How it will engage with the modern shape of the installation as the space embraced a cultural dialogue was really interesting for me. For me it was also about how I can embrace this architecture in a circular way as the piece takes over the columns and the building's structure. Also, after installing the work there for three weeks, the lighting sequences were inspired by the sunsets. The shapes are also pretty much of the dunes, as I was able to visit the edge of the world in the desert, around an hour or two from Riyadh.
It looks like the piece has been a huge undertaking. What are some of your favourite aspects about working with light at such a large scale?
I love it. I really love the collaborative process of all these teams together, trying to work together to make this happen. That to me, is incredible. The people who install the work with me are the first ones who engage with it and I consider them the first visitors. It affects them. They want to bring their families, take selfies, to show where they've been for the past three weeks.
It's important for all of us to consider our relationship to light and the power it has. We don't realise that light is always changing. It's a truly fluid medium; it's ephemeral, like sound or music. To me, it has always had the power to mesmerise audiences and it doesn't matter their social or geographic background. I have always seen light as a connection – that we all connect to light.
The way you use light is almost like it's a universal language – would you say that's true?
Universality has been very important to me. Of course, I have strong conceptual reasons as to why I make these pieces, but at the same time, I leave it open to individuals to see and make them think. By doing so, I hope I inspire them to be more creative, to make changes in their own lives. I think it's very important to me to consider how they could be inspired to lead a more purposefully creative life in general. I think it's important for an artist, and I always like to share that with others.
In terms of the space, how will visitors interact with the work?
When you're creating these really large monumental sculptures you take into consideration the architectural surroundings and how they influence and affect our state of mind. In this case, the Cultural Palace features very large, impressive architecture, but I think the piece provides the viewer with the means to access their own emotional selves in that moment. They are at one with the piece, the architecture, and the surroundings. I think – and I would include myself in this – that it makes us more empathetic. Studies have shown how light improves our mood and mental health, but it has the ability to bridge cultures and diverse audiences, which I love, because as I mentioned, in the end, we all connect to light.
---
Read more on BBC official website, click here. 
AMPLEXUS Project page click here.